Valley National Bank Awards Grant to The Community Chest to Help People in Need in Eastern Bergen County
(Eastern Bergen County, New Jersey; February 4, 2022) -- The Community Chest of Eastern Bergen County announces the award of a grant from Valley National Bank. 
The donation supports The Chest's mission by making communities in the area stronger and helping people in need in eastern Bergen County.  With the grant, The Chest plans to undertake projects related to food insecurity, mental health, and services to seniors and young people in the area.
            "The Community Chest of Eastern Bergen County thanks Valley National Bank for their generous contribution and confirmation of our work.  Valley National Bank has a long tradition of partnering with their grant recipients.  The bank supports the local communities they serve and aligns with nonprofit organizations such as The Community Chest to carry out our mission and work in the area," said Dr. Shelly Wimpfheimer, Executive Director of The Community Chest.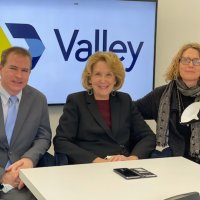 The Chest leads initiatives and supports agencies serving 15 municipalities in eastern Bergen County.  These municipalities include Alpine, Bergenfield, Closter, Cresskill, Demarest, Dumont, Englewood, Englewood Cliffs, Harrington Park, Haworth, Northvale, Norwood, Old Tappan, Rockleigh and Tenafly. 
            Contributions to The Community Chest are accepted throughout the year to respond to ongoing needs in the community.  Checks may be made out to and mailed to The Community Chest, located at 122 South Van Brunt Street in Englewood, New Jersey 07631.  An online donation may be made at The Community Chest's website, www.thecommunitychestebc.org/, by clicking the Donate button.      
             For further information about The Community Chest, contact (201) 568-7474.
About The Community Chest
            Founded in 1933, The Community Chest of Eastern Bergen County, a nonprofit, tax-exempt organization, has supported local not-for-profit agencies for 88 years.  The Chest leads initiatives and supports nonprofits that make our communities stronger and benefit people in need in eastern Bergen County.  Each year, The Chest raises funds and allocates them to agencies demonstrating the capacity to provide services to local citizens.  The organization also provides coordinating and planning services in its communities, serving as a bridge between agencies and organizations and investing in the stability and quality of the service network. 
            The Community Chest's Board of Managers is comprised of community leaders dedicated to improving the lives of neighbors in need.  People interested in being considered for board membership may contact executive director Shelly Wimpfheimer at (201) 568-7474.
Photo Caption: Left to right:  James Geraghty, First Vice President/Market Manager, Valley National Bank; Dr. Shelly Wimpfheimer, Executive Director, The Community Chest of Eastern Bergen County; Geraldine Flach, VP, CSR-CRA Regional Officer, Valley National Bank