Met Opera Brass Soloists to Perform at West Side Presbyterian Church
RIDGEWOOD—The 46th season of the West Side Concert Series concludes with a performance by Metropolitan Opera Brass Soloists – Scott Brubaker, Billy Hunter and Weston Sprott – on Sunday, June 12 at 3:00 pm at West Side Presbyterian Church.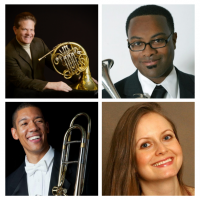 They will perform a variety of pieces, from the exciting, contemporary Red Sky of Anthony Barfield and lyrical Pastorale of Eric Ewazen, to the beloved Haydn Trumpet Concerto and the boisterous fun of Gabaye's Rècrèation. The trio will be accompanied by pianist Anna Stoytcheva.

Scott Brubaker, horn, recently retired from the Met Opera Orchestra after 47 seasons! There he enjoyed performing, recording and touring with virtually all of the greatest singers, conductors and fellow musicians of several generations. During this time, he also developed a notable career as a soloist, chamber musician and recording artist, performing throughout the United States, Europe and Asia. A graduate of Oberlin College Conservatory, Brubaker has taught on the faculties of the Brooklyn Conservatory and Princeton University, and more recently on Zoom!

Billy Hunter is currently principal trumpet with the Met Opera. Previously, he was principal with the New World Symphony and Spoleto Festival Italy orchestras, and has performed as guest principal with the Frankfurt Radio Symphony in Germany, Malaysian Philharmonic in Kuala Lumpur and the Charleston Symphony Orchestra. Hunter is a graduate of the University of Texas at Austin and The Juilliard School. 

Weston Sprott, trombone, enjoys an exciting career that includes orchestral, chamber and solo performances as well as numerous educational and outreach efforts. He is dean of the preparatory division at The Juilliard School and has been a member of the Met Opera Orchestra since 2005. Sprott has performed frequently with the Philadelphia Orchestra, held a position with the Zurich Opera/Philharmonia, and has appeared with numerous other orchestras including the New York Philharmonic, Atlanta Symphony and Oslo Philharmonic. 

Since winning the prestigious Ettore Pozzoli International Piano Competition in Milan at the age of 17, Anna Stoytcheva has performed throughout North America, Europe and Japan. Currently, she is the pianist of American Chambers Players five-member ensemble, which performs extensively throughout the U.S., as well as co-founder of the Bulgarian Concert Evenings in New York series. Stoytcheva holds Bachelor and Master of Music Degrees in Piano Performance from The Juilliard School.

Admission to the concert at West Side is free. (Donations are appreciated.) Parking is convenient and ample.

Can't make it in person? The concert will be livestreamed at westside.org.

The 2021-2022 season marks the 46th season of the West Side Concert Series. Throughout its long history, the series has presented a wide variety of solo, instrumental and ensemble concerts in the classical, African-American and jazz traditions.

Founded in 1912, West Side Presbyterian Church is a welcoming, inclusive church where people of all ages grow in faith, form lasting friendships and help our neighbors in need. West Side is located at 6 South Monroe Street in Ridgewood, NJ. For more information, please visit westside.org.