College, County Extend Assistance to Entrepreneurs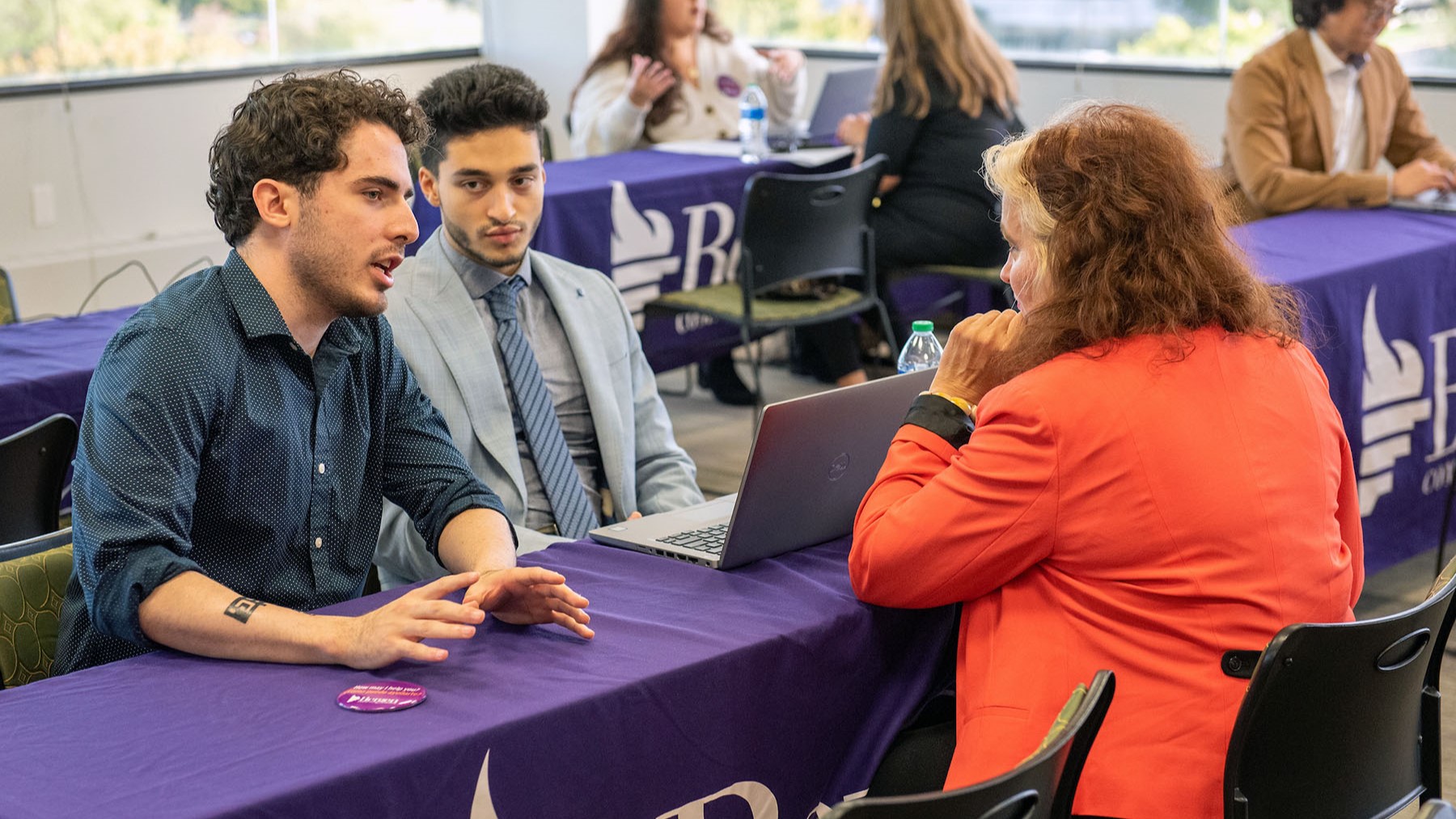 LYNDHURST, N.J. – Bergen Community College and the Bergen County Business Resource Network welcomed more than 300 local entrepreneurs to a complimentary showcase event Sept. 29 that offered workshops, professional services and consultations with small business resource specialists.
College President Eric M. Friedman, Ph.D., and Bergen County Executive James J. Tedesco III hosted the "G3: Gather, Gain, Grow" event to spotlight the assorted resources offered through the college-county collaboration. New and existing small business owners also had the opportunity to take professional headshots, meet government leaders and sample the talents of Bergen's culinary students. The showcase took place at Bergen Community College at the Meadowlands, one of three locations the institution maintains within the county.
"With critical funding through the county executive and county commissioners, the College's involvement with the Bergen Resource Network represents the biggest and most vibrant initiative rising from the College's economic recovery committee," Friedman said at the event. "I'm especially proud of our students, who are using what they have learned to make a demonstrated impact in the communities we live."
"In Bergen County, small business is the heart of both our economy and community," Tedesco said. "That's why my administration worked with Bergen Community College and several local workforce resource agencies to launch the Bergen Business Resource Network, which sponsors resources like G3, and provides free support for small businesses to help them grow and thrive."
The resource network, an initiative of the Bergen County Division of Economic Development, the Board of Commissioners and the county executive, launched in response to the COVID-19 pandemic's impact on the local economy. Shortly after its inception, College leaders partnered with county officials to integrate student small business support specialists to provide entrepreneurs with free consulting. Friedman credits the College's Linda Caruso, manager of the business accelerator for entrepreneurs, for working with Bergen County Division of Economic Development Director Joanne Cimiluca to launch the program.
Before becoming small business support specialists, the students participated in one-on-one training from business mentors facilitated by county government on essential skills such as communication.
Once fully trained, the student consultant program launched with $90,000 in grant funds from the county to provide the students with real-world experience as the first point of contact for small businesses seeking assistance. Tasks now include assisting business owners with a data tool, known as "SizeUp," that breaks down how a business compares against their competition within a specific industry. Students also provide social media and web service support, while helping connect business owners with other partners. To date, the program has assisted over 400 businesses. Noting its success, county officials recently authorized an additional $235,000 in grant funding so the College can continue and expand the initiative. The students maintain an office at the College's main campus in Paramus. Friedman, Tedesco and other local leaders will officially dedicate that space Oct. 20 during a ribbon-cutting ceremony.
The College's involvement with the Bergen Resource Network represents one of the first major initiatives emerging from President Friedman's economic recovery committee taskforce. The group, which began meeting shortly after Friedman took office in 2021, serves in an advisory capacity to him, creating and implementing strategies that position the institution as a catalyst for recovery from the pandemic.
In parallel, county government officials launched the Bergen County Economic Resiliency Advisory Committee, bringing together industry leaders to identify options, alternatives and recommendations to maintain the county's position of economic strength and build upon it for sustainable growth. Friedman serves on the committee.
For more information on the Business Resource Network, visit bergenforbusiness.com.
Based in Paramus, Bergen Community College (www.bergen.edu), a public two-year coeducational college, enrolls more than 13,000 students at locations in Paramus, the Philip Ciarco Jr. Learning Center in Hackensack and Bergen Community College at the Meadowlands in Lyndhurst. The College offers associate degree, certificate and continuing education programs in a variety of fields. More students graduate from Bergen than any other community college in the state.
Photo Caption: Bergen Community College small business support specialists Wesley Joyce and Michael Tissellano met with local entrepreneurs at the G3 resource fair.