Kean University Shares 'Strength in Numbers' at Mid-Year Convocation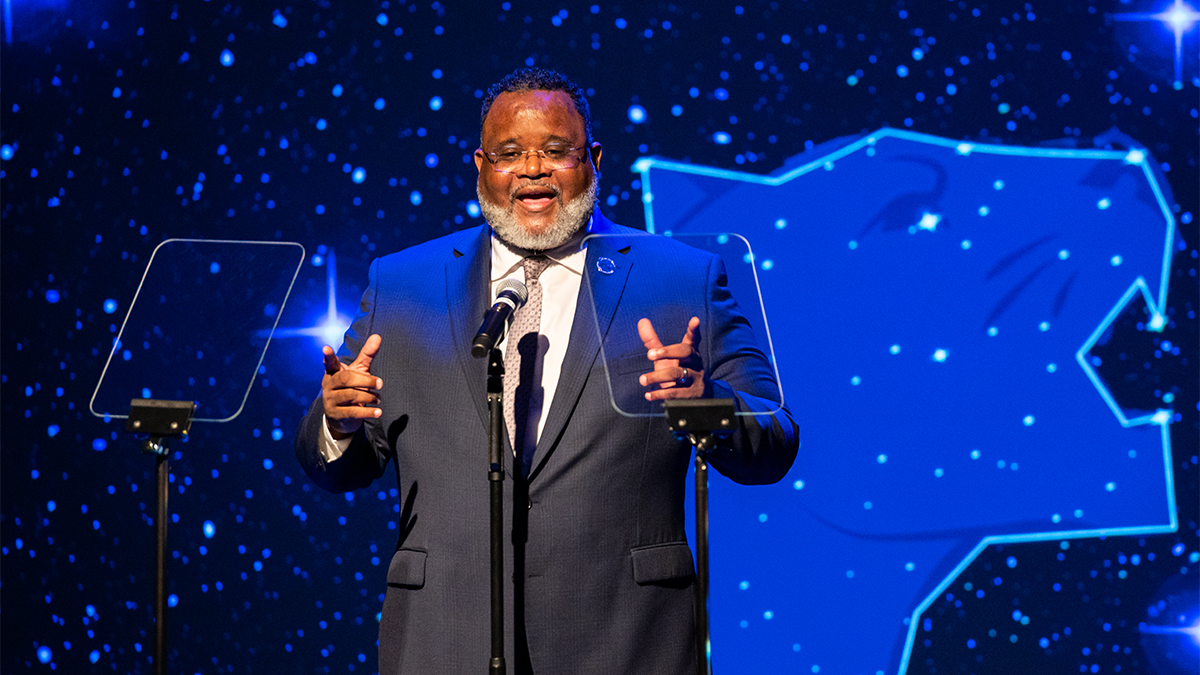 UNION, N.J. — Pledging to "dig deeper, reach higher and recommit" to ensure success for all students, Kean University President Lamont O. Repollet, Ed.D. shared the University's goals and progress in addressing equity gaps during his inaugural Mid-Year Convocation on Thursday, March 2.
Repollet and other University leaders highlighted student retention numbers, diversity statistics, internship participation figures and more to show the progress and path forward in addressing inequities for students from all backgrounds. 
"We are here today for a transparent, data-driven, clear-eyed and objective look at where things actually stand on this important issue, to learn where things are going well and where we need to improve," Repollet said. "Inequities in our University are a threat to a fair and just education for all within our University. We have a moral obligation to take action."
Repollet has focused on equity since joining the University in 2020. Nationally, statistics show wide discrepancies in student outcomes based on racial, ethnic and socioeconomic factors.
The Convocation aligned with Kean's participation in the Moon Shot for Equity partnership, a national network of colleges and universities committed to eliminating equity gaps in higher education by 2030. In December, Kean became the first New Jersey university to join Moon Shot for Equity, which is facilitated by EAB, a Washington, D.C.-based education firm.
"In this day and age where diversity, equity and inclusion efforts can be seen as harmful and have a negative connotation, it is imperative we understand the importance of the work we are doing," Repollet said. "Increasing equity focuses on the collective good and only enhances outcomes for all."
Kean University Provost and Senior Vice President for Academic Affairs David Birdsell, Ph.D., urged the University community to join forces to improve numbers such as student retention.
"If we come together as a community and think about all of the services that touch students, from how we put our classes together, to how we deliver them, to how we support them, then our successors won't be having this conversation 17 years from now," he said.
Kean Senior Vice President for Administration Michael Salvatore, Ph.D., also urged Kean faculty, staff and students to "be part of the movement."
"Let's climb together – embrace our strength in numbers – and let's go, Cougars," Salvatore said.
Several students in the audience said closing equity gaps is an important issue for them and their peers.
Jamaica Evelyn, a junior history education major from Hillside, said the University should work to help "everyone have a fair chance.
"It is the best thing a university can offer," she said.
Mollie Engel, a junior history major from Bayville, said she was glad to hear the discussion.
"It's nice to see that the heads of the university are looking at it from a perspective where we can all join in and help and work on it together," she said.
More than 200 faculty, staff and students who attended Thursday's convocation also participated in a Gallery Walk featuring data from some two dozen departments at Kean.
Each college at the University, along with several administrative departments, presented their own "numbers" to highlight progress on addressing inequities felt across higher education.
Photo caption: Kean University President Lamont O. Repollet, Ed.D. shared the University's goals and progress in addressing equity gaps during his inaugural Mid-Year Convocation on Thursday, March 2. (Photo Credit: Kean University)
ABOUT KEAN UNIVERSITY

Founded in 1855, Kean University is one of the largest metropolitan institutions of higher education in the region, with a richly diverse student, faculty and staff population. Kean continues to play a key role in the training of teachers and is a hub of educational, technological and cultural enrichment serving more than 16,000 students. The University's six colleges offer more than 50 undergraduate degrees, seven doctoral degree programs, and more than 70 options for graduate study leading to master's degrees, professional diplomas or certifications over a full range of academic subjects. With campuses in Union, Toms River, Jefferson and Manahawkin, New Jersey, and Wenzhou, China, Kean University furthers its mission by providing an affordable and accessible world-class education. Visit www.kean.edu.