BERGEN COUNTY CELEBRATES MILITARY APPRECIATION MONTH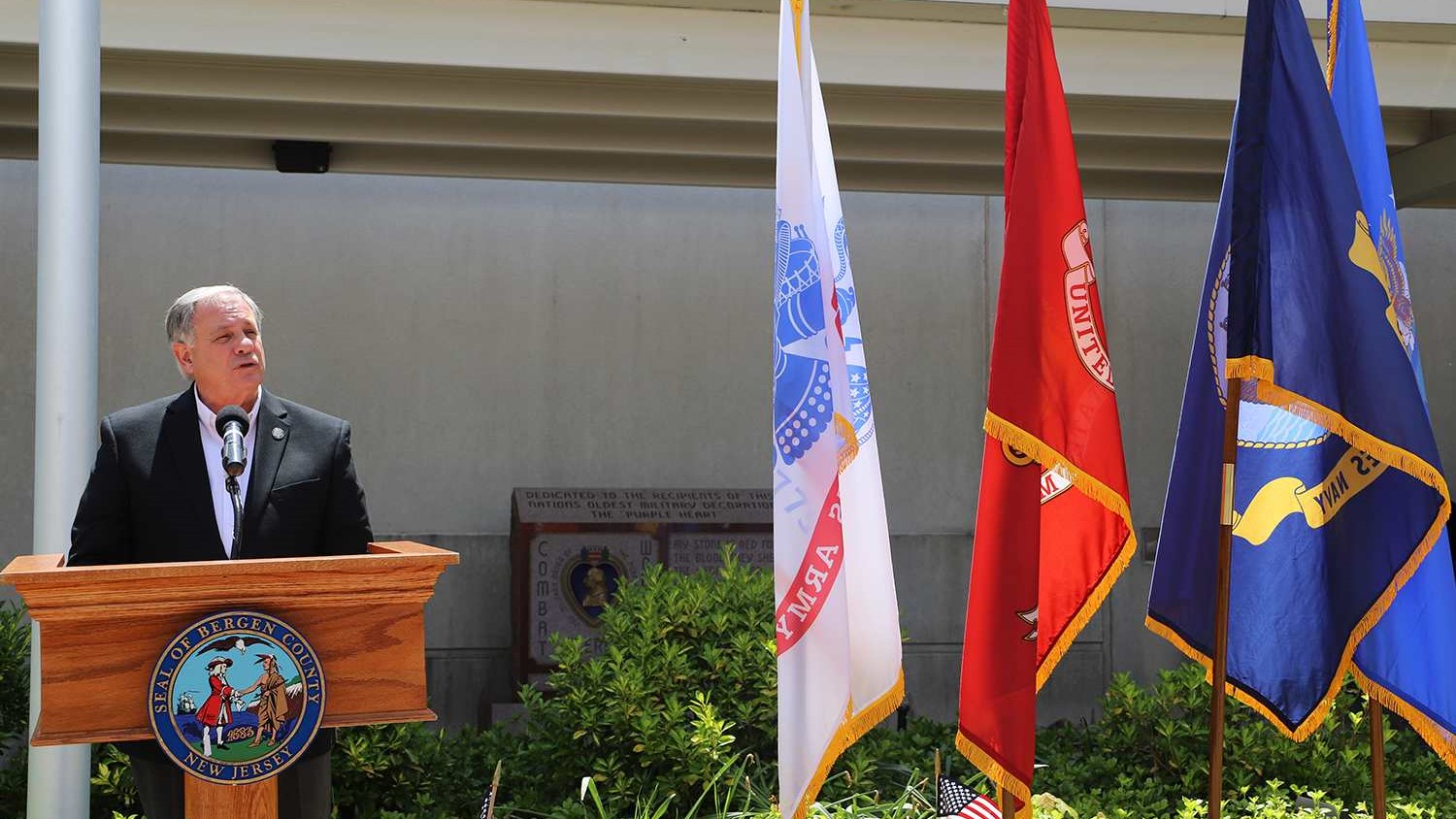 HACKENSACK, NJ – Today, the County of Bergen paid tribute to local military service members in a ceremony at One Bergen County Plaza in recognition of Military Appreciation Month.
Declared by Congress in 1999, May was selected National Military Appreciation Month as a month-long observance honoring the sacrifices of the United State Armed Forces. Military Appreciation Month encompasses Loyalty Day on May 1, Victory in Europe Day on May 8, Military Spouse Appreciation Day on May 12, Armed Forces Day on May 20, and Memorial Day on May 29th.
This year, Bergen County Executive James Tedesco and the Board of County Commissioners presented military service medals to seven Bergen County residents for their military service to our nation's armed forces. Bergen County Division of Veterans Affairs invited retired U.S. Airforce Chief Master Sergeant Kevin Laliberte to offer this the program's keynote address. Laliberte is a graduate of Westwood High School and served for more than 23 years in the U.S. Airforce.
The following honorees received service medals on Friday:
Michael Losurdo – Saddle River – Corporal, United States Army, Korea
Jeffrey Siconolfi – Washington Township – Senior Chief Petty Officer, United States Army, Vietnam
John Smith – Bergenfield – Sergeant First Class, United States Army, Vietnam
Angelo Gomez – Ridgefield Park – Specialist, United States Army, Vietnam
Vincent Tainatongo – New Milford – Sergeant First Class, United States Army
Kevin Laliberte – Washington Township – Chief Master Sergeant, United States Air Force, OEF & OIF
Daniel Pettinger – Mahwah – Sergeant, United States Marines Corps, GWOT
Photo Caption: County Executive Tedesco addresses the audience at One Bergen County Plaza.