AURA COFFEE NOW OPEN AT CITIZEN LINDEN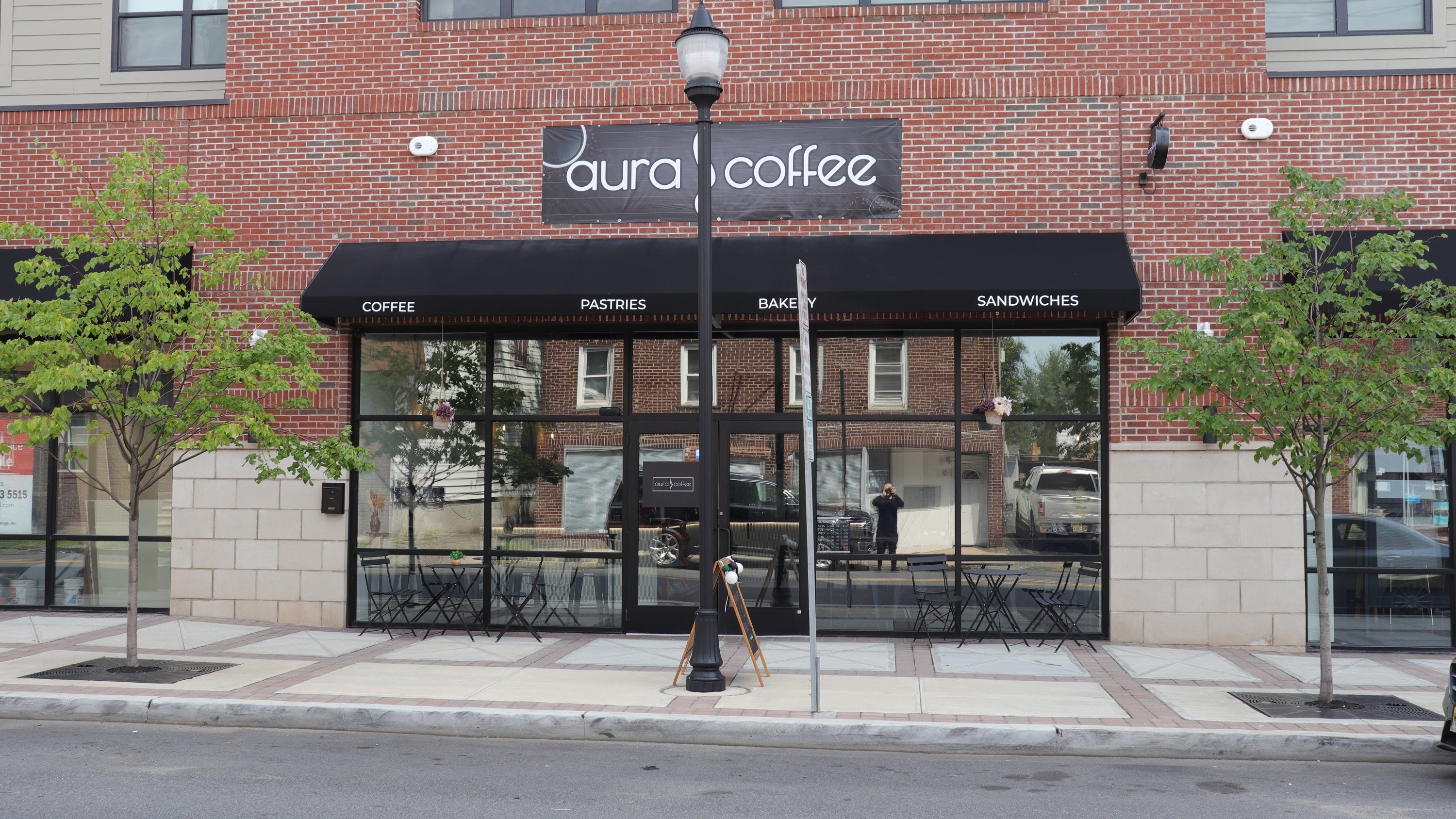 Gourmet Coffee Shop Serves Local Residents and Commuters Near Linden Train Station
LINDEN, NJ – Accurate, one of New Jersey's premier developers of residential, commercial, and mixed-use properties, announced today that Aura Coffee is now open at Citizen Linden, the luxury rental community at 307 West Elizabeth Avenue, near the Linden train station.
Aura Coffee occupies a 961 square-foot, street-level retail space at Citizen Linden, and recently welcomed its first customers. It is a European-style coffee shop that serves gourmet coffee, espresso drinks, cold brew, tea, bagels, sandwiches, waffles, French toast, bakery items and more. It is the creation of Argjend Berisha, a local restaurant manager who developed a love for premium coffee in his hometown of Pristina, Kosovo, where coffee is a way of life. He gained further knowledge and appreciation for the beverage, as well as experience in the coffee making process, while working in the hospitality industry for the last five years.
Mr. Berisha's goal is to offer Aura Coffee customers an experience that will brighten their day every time they visit. It is a counter service shop with both indoor and outdoor seating. Customers can sit on the patio and enjoy a leisurely breakfast or just drop in for a morning treat on their way to the train station. Whatever the coffee drinking experience they are looking for is, they will find it at Aura Coffee.
"We are thrilled to announce that Aura Coffee is now open," Mr. Berisha said. "We spent more than a year developing the concept for the shop and making sure everything is perfect before opening. Now we can proudly welcome our friends and neighbors to come inside and enjoy a cup of coffee. The location is perfect for us because it is a busy street with a lot of foot traffic and it is close to the train station, not to mention all of the apartments right above us."
Mr. Berisha added that Aura Coffee's emphasis on high-quality ingredients helps it stand out as a place customers will want to visit over and over again.
"We serve an Ethiopian organic fair trade-certified coffee that is locally roasted in Pennsylvania. It is a light-medium roast known for its fruity and flowery characteristics." Mr. Berisha said. "We recommend that people try any of our espresso-based drinks and also our baked goods, such as our muffins. All of our bakery items are baked in-house every morning. I would also say try our panini sandwiches, such as our Italian Caprese. Those are amazing, as well."
Citizen Linden is a community of 234 luxury rental residences developed by Accurate and designed by award-winning firm Thomas J. Brennan Architects. It opened in December, 2021, and offers an amenity-rich, upscale lifestyle experience that is attracting renters from across New Jersey, the New York metro area, and multiple states, and bringing new energy and vitality to an exciting downtown Linden neighborhood.
Studio, one- and two-bedroom residences are currently available.
The opening of Aura Coffee further enhances Citizen Linden's extended amenity offering, with premium coffee and food now available just steps from residents' front doors.
"We are happy to welcome Aura Coffee to the Citizen Linden community," said Jack Klugmann, President & CEO of Accurate. "We enjoy working with retail businesses like this one that contribute positively to the overall culture, vibrancy and quality-of-life our residents enjoy, as well as serve the community at large. We're sure this will become a 'go to' place in the neighborhood for coffee, food and conversation."
For more information on Aura Coffee, visit www.auracoffee.net. For more information on Citizen Linden, visit www.CitizenLinden.com or call 908-374-1333.
For more information on the retail spaces available for lease at Citizen Linden, contact David Townes at david.townes@jll.com.
About Accurate
Founded by Jack Klugmann in 2009, Accurate was built around the principle of providing quality construction to transform neighborhoods and the lives of those who live and work in the homes and buildings constructed. The company has earned a reputation for developing high-quality multifamily properties, including transit-oriented developments in key urban and suburban locations. Currently, Accurate is developing and leasing thousands of units in New Jersey, Connecticut, Pennsylvania and other locations up and down the east coast. A key factor in the company's success is that Accurate is both the developer and general contractor of its projects. By maintaining control over these critical aspects of any development project, Accurate can manage project costs and construction timetables which maximize efficiency and allows the Company to complete projects ahead of schedule and at or below budget. www.accurate-re.com.