PARAMUS, N.J. – The Bergenstages theatre troupe will present French playwright Moliere's "Scapin," a three-act comedy full of intrigue and schemes, in the Anna Maria Ciccone Theatre at Bergen Community College in April. Directed by Thomas O'Neill, Ed.D., the performance will open Friday, April 1 at 7:30 p.m. to coincide with April Fool's Day.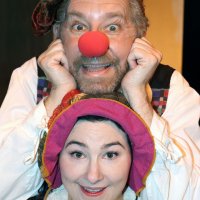 Adapted by Bill Irwin, the storyline centers on Octave and Leander who enlist the help of their 'trickster' servant, Scapin, to help save them after they had pledged

marriage

to women their fathers would never approve. Improvising his way through treacherous turns and outrageous misbehavior, Scapin manages to help the two men and their brides while managing to exact a personal revenge in the process. When Scapin is caught in the middle of a trick and abandoned by his cohorts, will his scheming be enough to get him out of trouble unscathed?

The show runs Friday, April 1, Saturday, April 2, Thursday, April 7, Friday, April 8, and Saturday, April 9 at 7:30 p.m. On Saturday, April 2 and April 9, matinee performances will take place at 2 p.m.

General tickets are $15, with discounts offered to senior citizens ($10), Bergen faculty and staff ($10) and students ($5). To purchase, call (201) 447-7428 or visit tickets.bergen.edu.

In the continued interest of the health and safety of our campus community, all non-College visitors age 12 and older attending on-campus events/gatherings require proof of vaccination at or negative test result taken in the last 48 hours. Visitors must present their official Centers for Disease Control COVID-19 Vaccination Record cards bearing his or her name, a certified document from a healthcare provider (personal physician, the agency that performed the vaccination or the New Jersey Immunization Information System) confirming the administration of the vaccine to him or her, the Docket app bearing his or her name or an official dated test record with his or her name confirming a negative test within the last 48 hours. Visitors under the age of 12 do not require vaccination or proof of a negative test. All patrons, including children, must wear masks while indoors on the College's campus. Public safety will ensure compliance at entry for large events.

Based in Paramus, Bergen Community College (www.bergen.edu), a public two-year coeducational college, enrolls more than 13,000 students at locations in Paramus, the Philip Ciarco Jr. Learning Center in Hackensack and Bergen Community College at the Meadowlands in Lyndhurst. The College offers associate degree, certificate and continuing education programs in a variety of fields. More students graduate from Bergen than any other community college in the state.

Photo Caption: Peter Helff, as Scapin, and Christine Dunning, as Sylvestre.