Elizabeth Davis always wanted to help people. For the past 14 years she has been doing just that as a certified home health and hospice care aide to patients in advanced stages of illness. Davis brings compassion and care to patients and families during their most trying moments.
"My grandmother was a nurse and I always wanted to make a difference," said Davis, a resident of Morris Plains, NJ.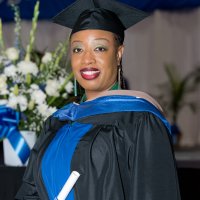 Davis is a mother of two teenagers, Evangeline, 16, and Timothy, 14. She works 12-hour days and carried a full course load as a student in Berkeley College's Master of Business Administration (MBA) program. She wanted to further her education to inspire her children.

On Friday, May 13, 2022, Davis' children were among those in the audience celebrating their mom when she collected her diploma at Berkeley College's Commencement ceremony, held at the Prudential Center in Newark, NJ.

"I want to show my children what can be accomplished with an education and hard work," said Davis, who earned an MBA with a concentration in Health Services Management.

When Davis, 42, first entered college upon graduating from Catherine McAuley High School in Brooklyn in 1998, she enrolled in an out-of-state university and did not feel supported as an out-of-state student. Davis returned home two semesters later and worked at a local college in Brooklyn while taking classes.

After earning her initial credentials at another school, Davis chose Berkeley College to continue her education. At Berkeley, she completed an Associate's in Applied Science degree in Surgical Technology in 2017, and a Bachelor of Business Administration in Health Services Management, graduating cum laude in 2019.

Davis opted to stay with Berkeley College from her Associate's, to her Bachelor's, to her Master's degree "because I felt appreciated and they (faculty and staff) basically cultivated me and made me feel included. The response and encouragement I received from Berkeley was my motivation," said Davis.

Here, Davis, a newly minted MBA graduate, shares her tips on how she persevered through seven years of attending college full time, raising a family, and working in the health field as a caregiver.

Enjoy the journey. Sometimes the best lessons come from the journey.

Take time for yourself. If you are burnt out you can't help anyone.

Practice patience. It is a skill that will help you cope with many responsibilities managing classes, deadlines, kids and home life.

Never give up – believe in yourself.

Try to stay upbeat and positive by tuning into your favorite music. Music helps me unwind. I love to play music on my long commutes home from work.


Commencement Stories: For more information on Berkeley College Commencement speakers, honorees and available interviews, click here.  

About Berkeley College

Berkeley College, founded in 1931, is a career-focused institution accredited by the Middle States Commission on Higher Education that offers students Master's, Bachelor's, and Associate's degree and Certificate programs in more than 20 career fields. The College also offers continuing education programs to enhance career credentials.

Berkeley College has campuses in Midtown Manhattan, NY, and in Newark, Woodbridge and Woodland Park, NJ, with more than 4,000 students enrolled. In addition, Berkeley College Online? serves a global population. U.S. News & World Report has named Berkeley College among the Best Colleges for Online Bachelor's Programs and among the Best Online Bachelor's Programs for Veterans, for nine consecutive years. U.S. News & World Report named Berkeley College (NJ) one of the Best Regional Colleges in the North in its 2022 edition of the Best Colleges Survey.  In 2021 Berkeley College (NJ) was also recognized for the first time as a Top Performer on Social Mobility among colleges in the region. The website address is http://www.BerkeleyCollege.edu.

Photo Caption: Davis receives her diploma from Diane Recinos, EdD, President of Berkeley College, during the Commencement ceremony on Friday, May 13, 2022, at Prudential Center in Newark, NJ.