Berkeley College graduate Gabrielle Peralta of Newark, NJ, was among 82 college students named to the ALL IN Campus Democracy Challenge Student Voting Honor Roll,
recognizing college students nationwide who go above and beyond to advance nonpartisan student voter registration, education and turnout efforts, and to ensure equitable access to the polls.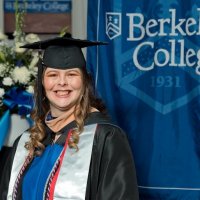 "College student voter turnout has increased since 2016, and this increase has been driven by students," said Jennifer Domagal-Goldman, Executive Director, ALL IN Campus Democracy Challenge. "These students registered students to vote, served on their campus voting coalitions, spearheaded voter education efforts, advocated for campus polling locations and organized other voter engagement efforts to ensure their peers were confident and informed voters."

The ALL IN Campus Democracy Challenge engages more than 9 million students from more than 870 institutions in all 50 states and the District of Columbia. 

In addition to this most recent accolade, Peralta was recognized as Student of the Year during the 2022 Berkeley College Commencement ceremony, held on Friday, May 13, 2022, at Prudential Center in Newark, NJ. The Student of the Year recognition is presented annually to a graduate who has met high standards of academic excellence while overcoming personal, professional or financial obstacles. 

Peralta, a U.S. Marine Corps veteran originally from St. Louis, MO, graduated with a Master of Business Administration in Management degree. She also holds a Bachelor of Business Administration in Business Administration – Management from Berkeley College. 

Peralta was honored by the New Jersey Business and Industry Association in 2020 with the Rising Star Award, recognizing future business leaders. She plans to be a small business owner, operating her own line of bakery trucks. 

About Berkeley College

Berkeley College, founded in 1931, is a career-focused institution accredited by the Middle States Commission on Higher Education that offers students Master's, Bachelor's, and Associate's degree and Certificate programs in more than 20 career fields. The College also offers continuing education programs to enhance career credentials.

Berkeley College has campuses in Midtown Manhattan, NY, and in Newark, Woodbridge and Woodland Park, NJ, with more than 4,000 students enrolled. In addition, Berkeley College Online? serves a global population. U.S. News & World Report has named Berkeley College among the Best Colleges for Online Bachelor's Programs and among the Best Online Bachelor's Programs for Veterans, for nine consecutive years. U.S. News & World Report named Berkeley College (NJ) one of the Best Regional Colleges in the North in its 2022 edition of the Best Colleges Survey.  In 2021 Berkeley College (NJ) was also recognized for the first time as a Top Performer on Social Mobility among colleges in the region. The website address is http://www.BerkeleyCollege.edu.