Kim K & Kids Ski at Big SNOW American Dream
---

Socialite and businesswoman, Kim Kardashian, along with her daughters, North and Chicago, were spotted showing off their skiing and sledding skills at Big SNOW American Dream, North America's first indoor, real-snow ski and snowboard center with year-round winter indoors, on Tuesday, July 12.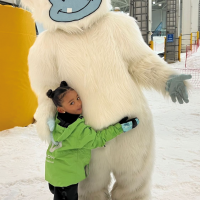 Kim, North and Chicago arrived at the ski complex around 5pm, dressed to the nines. Kardashian wore a sage green top, acid wash carpenter pants and Balenciaga sunglasses upon arrival, then opted for a Lululemon top and Burton pants on-snow. Kim and Chicago sported Big SNOW's green rental jackets, while North rocket a red rental jacket. All three rented equipment from the establishment. This is Kim's second visit to the resort within the last two weeks!

Kim and the kids hit the slopes for two hours or so, before departing around 7pm. Kim skied and Chicago sledded while North took a 2-hour ski lesson. The girls also indulged on Big SNOW's signature Joe C's S'mores Hot Chocolate, topped with chocolate bars and graham crackers. Chicago also took a liking to the resort's friendly Yeti mascot, BIG, and posed for a few photos.

The media personality told staff members that skiing in the summer at the American Dream Mall is now one of her favorite things to do. Kim's bodyguard also informed staff how it's unusual for her to return to the same place within a two-week period, but since the kids had so much, they would be back every time they come to New York City.