PARAMUS, N.J. – Bergen Community College honors students have secured a $1,000 grant from the Andrew W. Mellon Foundation to create two portable, accessible and sensory mini-golf courses for adults with intellectual disabilities.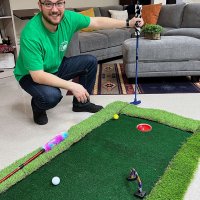 To secure the grant, the students conducted research on inequities in sports for those with disabilities. Working with the Bergen County Special Services School District Stepping Stones Program, an initiative designed to develop skills for adults with intellectual disabilities, the students completed the project as part of their work with the honor society of two-year colleges, Phi Theta Kappa (PTK). Stepping Stones Adult Service Manager Katie Conte, Bergen's class of 2022 valedictorian, praised the students' work.

"The work of Bergen PTK has provided our adult clients accessibility to a sport that may otherwise not have been possible and we cannot thank them enough for it," she said. "This is an example of how meaningful the connections made through Bergen Community College are to the surrounding community."

The students' "honors in action" project follows an international theme for community-building projects from PTK - "the art and science of play." To develop their project, the students played mini-golf with members of the College's Turning Point Program for intellectually disabled adults and visited the USGA Golf Museum in Liberty Corner. The PTK students' mini golf course features sensory elements, including textured golf club handles, colorful hazards and a first-of-its-kind musical golf cup. Stepping Stones participants also receive "Golf is for Everyone" t-shirts designed by the honor students.

"It has been such a pleasure to be able to serve my community and to use my hobbies to help others," Bergen PTK student Matthew Paccione, of Dumont, said. "I am very thankful to be able to contribute my engineering skills and apply my knowledge toward a project like this which will go on to have a meaningful impact in the lives of the Stepping Stones clients."

PTK students Kim Gastelu, of Oradell; Petar Petroski, of Garfield; Umar Sultan Kahloon, of North Haledon; Deborah Regan, of North Arlington; Mana Mehdizadeh, of Nutley; and Paccione, of Dumont, collaborated on the honors in action project to secure the Mellon grant, conduct the research, work with Stepping Stones personnel, design the sensory mini-golf course and construct the final product.

"To make golf more accessible to all, our students worked tirelessly for months performing research, designing a course, engineering never-before-seen prototypes, and communicating with local partners," Bergen PTK and Honors Coordinator Anna Gergen said. "We are so proud of their hard work, which had an immediate and visible impact on their local community."

Based in Paramus, Bergen Community College (www.bergen.edu), a public two-year coeducational college, enrolls more than 13,000 students at locations in Paramus, the Philip Ciarco Jr. Learning Center in Hackensack and Bergen Community College at the Meadowlands in Lyndhurst. The College offers associate degree, certificate and continuing education programs in a variety of fields. More students graduate from Bergen than any other community college in the state.