Kean University Student-Athlete Perseveres, Graduates Despite Personal Loss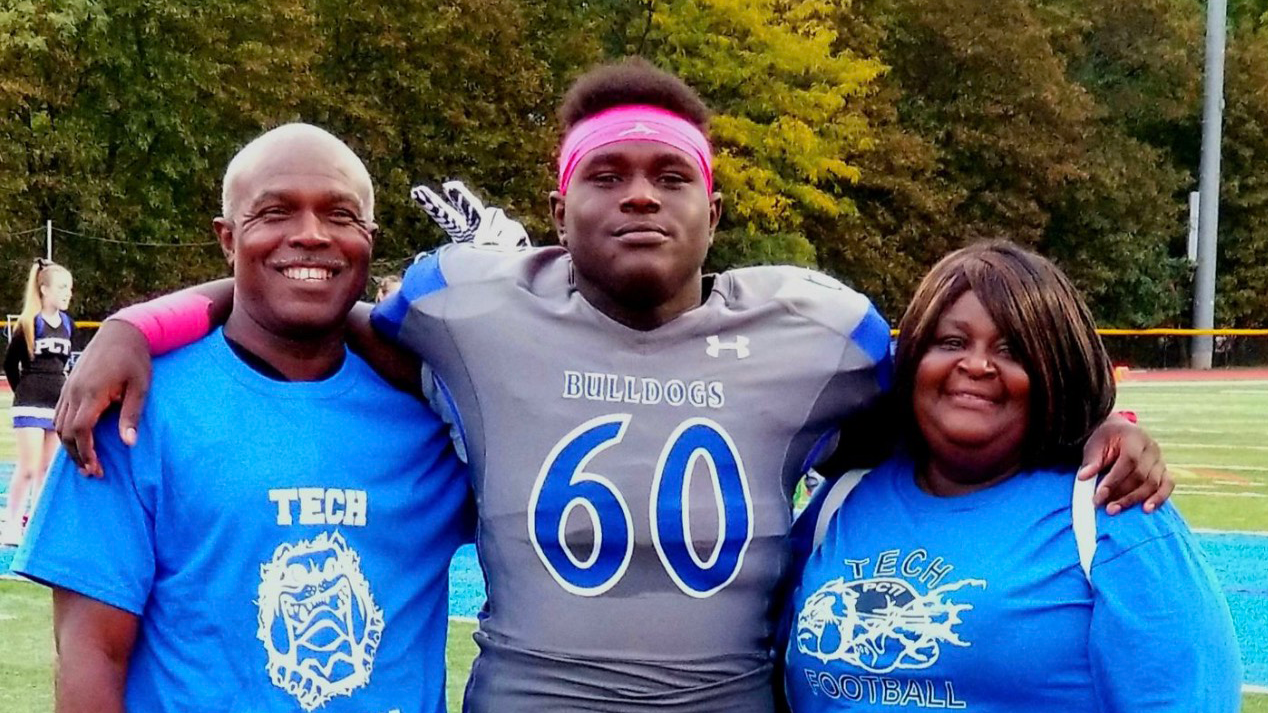 ---

UNION, N.J. — When Tymere Briggs-Perkins joined the Kean University football team as a freshman, the defensive lineman chose No. 90 for his team jersey, honoring his mother's birthday on February 9.
But three years later, the 2023 graduate changed his jersey number to memorialize both of his parents, who died four months apart during the COVID-19 pandemic. 
"To honor them, I wore number 7. Sunday is the seventh day of the week, and they both told me they would be coming home on Sunday," he said. "They did not come home."
Briggs-Perkins, of Garfield, persevered through his losses to graduate from Kean in January with a bachelor's degree in criminal justice. He marched in Commencement at the Prudential Center in May.
His mother, Marlene Briggs-Perkins, died of COVID-19 in December 2020. His father, Junior Perkins, passed away in April 2021 while visiting family in Jamaica. Briggs-Perkins said he passed out and did not wake up, but his family has not learned his cause of death.
The Kean grad, who himself overcame COVID, said "losing both parents at the age of 20 and 21 is not an easy thing to deal with." But his loss became his motivation.
"I accomplished the last wish they would have wanted," he said. "My mom was a believer in me always doing what makes me happy. What made me happy was to finish school and make my mother proud."
Briggs-Perkins lives with his older brother and sister. He graduated high school from Passaic County Technical Institute, where he played football.
When considering colleges, he said he liked both Kean's criminal justice program and its football program.
"Athletically, it was a good fit," he said. "Coach Garrett was phenomenal to play for and learn from."
Along with his degree, Briggs-Perkins received numerous awards at Kean. He made Dean's List four semesters and was a Bridge to Success honoree for five semesters, delivering an address at the Bridge to Success ceremony this spring. 
At the Kean Football Banquet, he received both the Jamal Reynolds Heart & Soul Award, given to a player who perseveres despite opposition or discouragement, and the Hawley Waterman Award, for "self-sacrificing devotion with the team in mind – a true team player." It is uncommon for the same player to receive both.
Kean Head Football Coach Dan Garrett kept in close contact with Briggs-Perkins, whose nickname is "Smiley," through the loss of his parents during a time when Kean classes were remote. 
"He is a true example of the competitive spirit. He always brought joy to the room and the people around him," Garrett said. "This young man lost both parents during COVID and still walks around with a smile. He continues to amaze me." 
Briggs-Perkins plans to go into IT cybersecurity, and wants to become a cybersecurity analyst and engineer. 
"My mom would be very proud that I'm doing what I love, and I'm making something of my life," he said.
Stan Mierzwa, managing assistant director of the Center for Cybersecurity at Kean and a Kean lecturer, had Briggs-Perkins in his cyber policy class. He said Briggs-Perkins was a curious, engaged student who asked insightful questions and demonstrated resilience and "grit" by successfully carrying his course load while playing football.
Brigg-Perkins obtained a FEMA Incident Command System certification completion while at Kean and said he wants to take further courses in cybersecurity through CompTIA, a certifying body that has an academic partnership with the University.
"Given the incredible resilience and strength that Tymere has demonstrated, I am very confident he can achieve any goal he sets his sights on," Mierzwa said.
ABOUT KEAN UNIVERSITY
Founded in 1855, Kean University is one of the largest metropolitan institutions of higher education in the region, with a richly diverse student, faculty and staff population. Kean continues to play a key role in the training of teachers and is a hub of educational, technological and cultural enrichment serving more than 16,000 students. The University's six colleges offer more than 50 undergraduate degrees, seven doctoral degree programs, and more than 70 options for graduate study leading to master's degrees, professional diplomas or certifications over a full range of academic subjects. With campuses in Union, Toms River, Jefferson and Manahawkin, New Jersey, and Wenzhou, China, Kean University furthers its mission by providing an affordable and accessible world-class education. Visit www.kean.edu.
Photo caption: Tymere Briggs-Perkins with his parents, Junior Perkins and Marlene Briggs-Perkins, at a high school football game. (Photo Credit: Tymere Briggs-Perkins)