BERGEN COUNTY COMMERORATES THE 125TH ANNIVERSARY OF PHILIPPINE INDEPENDENCE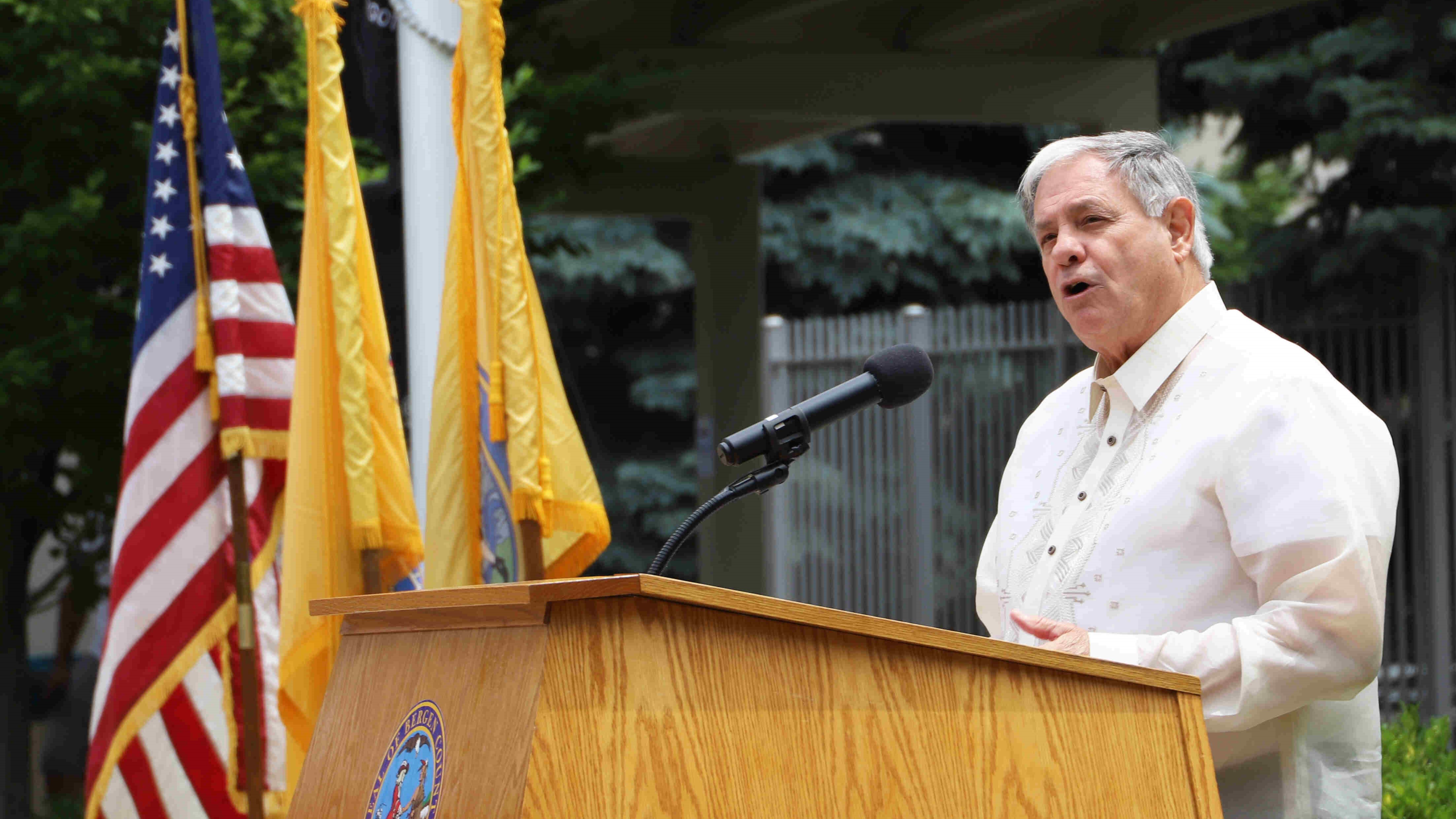 ---

Above: Mayor of Bergenfield Arvin Amatorio, Bergen County Executive James J. Tedesco, III, Bergen County Commissioner Rafael Marte, Bergen County Commissioner Joan Voss, and Bergen County Commissioner Mary Amoroso standing with 2023 Philippine Independence Day Community Service Award recipients
HACKENSACK, NJ – On Wednesday, June 21, the County of Bergen in partnership with the Bergen County Asian American Advisory Committee hosted a celebration in honor of the 125th anniversary of Philippine Independence Day in the Piazza at the One Bergen County Plaza Administration Building.
Philippine Independence Day is celebrated on June 12th to commemorate the date in 1898 when Filipino revolutionaries took a stand against their Spanish oppressors and issued the Philippine Declaration of Independence.
Bergen County Executive James J. Tedesco III issued a proclamation recognizing June 12, 2023, as Philippine Independence Day. The proclamation was presented to Deputy Consul General of the Consulate General of the Republic of the Philippines in New York Adrian Elmer S. Cruz. Deputy Consul General Cruz served as the event's keynote speaker.
The even began with welcoming remarks from Bergenfield Mayor Arvin Amatorio, the first Filipino American Mayor in Bergen County. Special remarks were also offered by author Kathryn Serrano. Serrano's book "Kalayaan: Filipina Heroines of WWII" was recently highlighted in a NorthJersey.com article earlier this month.
The ceremony also featured performances from Filipino-American Actor Vince Ermita, known for his role as Young Simba in "The Lion King" on Broadway, and Cristina Gania of Teaneck, NJ.
The County of Bergen also presented Philippine Independence Day Service Awards to members of the community.
The event culminated in the raising of the Philippine Flag. Refreshments were donated by various Bergen County restaurants and organizations.
2023 Philippine Independence Day Community Service Award Recipients:
Ilya Evangelista Amatorio, RN, Vice President of the Philippine Nurses Association of NJ-Bergen, Passaic Sub-Chapter
Vince Ermita, Actor, Young Simba, "The Lion King" on Broadway
Bert and Sandy Jimenez, Franchisees, Dunkin'/Baskin Robbins of Bergenfield
Marc Pascual, Certified Mechanic
Priscilla Pascual, Manager, Dumont Eye Care
Rafael Sanchez, Restaurant Owner
Kathryn Serrano, Author, "Kalayaan: Filipina Heroines of WWII"
Photo caption: Bergen County Executive James J. Tedesco, III delivers remarks to the audience.