See Artists Paint Live in "Art Takes the Bench!" on National Night Out in New Milford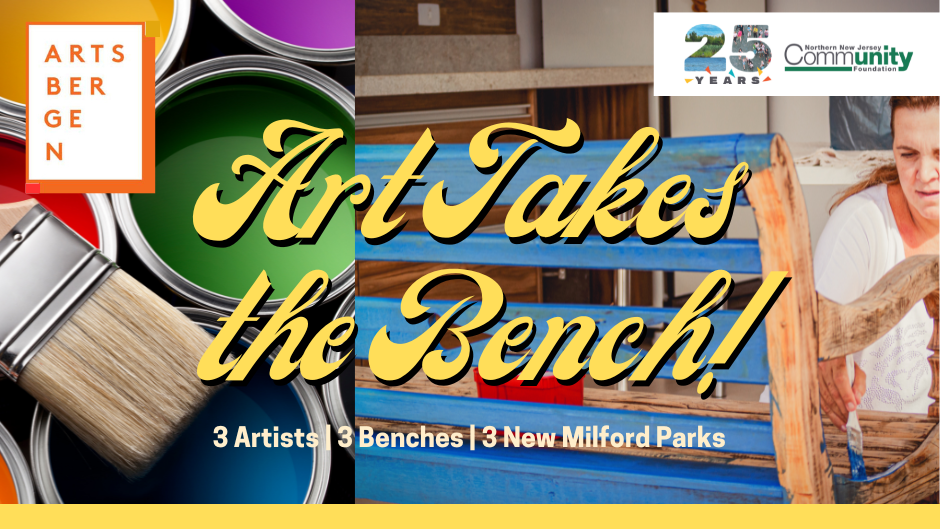 ---

(Hackensack, New Jersey; July 21, 2023) – The Northern New Jersey Community Foundation (NNJCF) ArtsBergen invites the public to watch three artists paint live themed designs on benches in "Art Takes the Bench!" in New Milford on National Night Out.
The fun takes place on Tuesday, August 1 from 3:30 p.m. through dusk in Kennedy Field behind the New Milford Borough Hall, located at 930 River Road in New Milford, New Jersey.  The field may be reached by turning onto Robert K. Chester Way off of River Road.  The event is free-of-charge and open to the public.

            A committee comprised of community members representative of New Milford selected these three artists to create the design for each bench using themes selected by the borough's residents:

·      Emily Gilman Beezley -  Something Fishy,

·      Fiona Chinkan - The Spirit of New Milford, and

·      Shani - Stream of Consciousness / To Read is to Dream.

            "Art Takes the Bench!" introduces New Milford's residents and the borough's visitors to artists' talents, while also providing visual attractions that create more interesting, inviting open spaces.  The project seeks to accomplish these five goals:

               • to beautify the community of New Milford by incorporating public art into open spaces,

               • to engage residents and passersby by providing attractive, art-filled seating areas,

               • to endorse arts and culture, as a powerful tool to build a stronger community and enliven public spaces,

               • to make public art accessible to people with visual challenges, and

               • to provide art-based work opportunities for local artists showcasing their talents.

             On each bench, a plaque in braille will be created describing the imagery of the artwork, making the art accessible to people who are blind or visually challenged.  The artist will provide a short detailed written description of their mural that will be translated into braille.

            This program is made possible in part by a grant administered by the Bergen County Division of Historic & Cultural Affairs from funds granted by the New Jersey State Council on the Arts.

About Northern New Jersey Community Foundation
            Founded in 1998, the Northern New Jersey Community Foundation, a not-for-profit 501(c) 3 organization based in Hackensack, New Jersey, works with local governments, school districts, businesses, non-profit organizations, and citizen groups to improve community life.  Through collaborative partnerships, regional problems are identified and resolved.  Opportunities are discovered and explored by talking and learning from each other and sharing ideas, best practices, services and resources.  The Foundation's primary areas of work are the environment, arts and culture, public health, education, civic engagement and philanthropy.  For more information, visit www.nnjcf.org, send an email to nnjcf@nnjcf.org, or call 201-568-5608.
About ArtsBergen
            The Northern New Jersey Community Foundation's ArtsBergen initiative, a regional arts alliance, works with various stakeholders.  These stakeholders encompass artists, arts organizations, businesses and municipal leaders, who use the arts to shape the social, physical, cultural, and economic identity of communities.  Creative placemaking, a community-led, arts-driven approach, is used to increase vibrancy, spur economic development, and build capacity among residents to take ownership of their communities.

            ArtsBergen is the only initiative in Bergen County, New Jersey offering a range of services in creative placemaking.  The initiative has partnered with multiple municipalities facilitating creative teams, developing public art and creative placemaking plans, and directing and managing public art projects to preserve and express community culture.  For more information about the ArtsBergen initiative, visit www.nnjcf.org/artsbergen/.
Photo caption: The public is invited to watch artists paint live on benches in the project "Art Takes The Bench!" in New Milford, New Jersey's 'National Night Out' on Tuesday, August 1, 2023.