BERGEN COUNTY HOSTS FREE HISTORY LECTURES TO COMMEMORATE VETERANS DAY & BERGEN250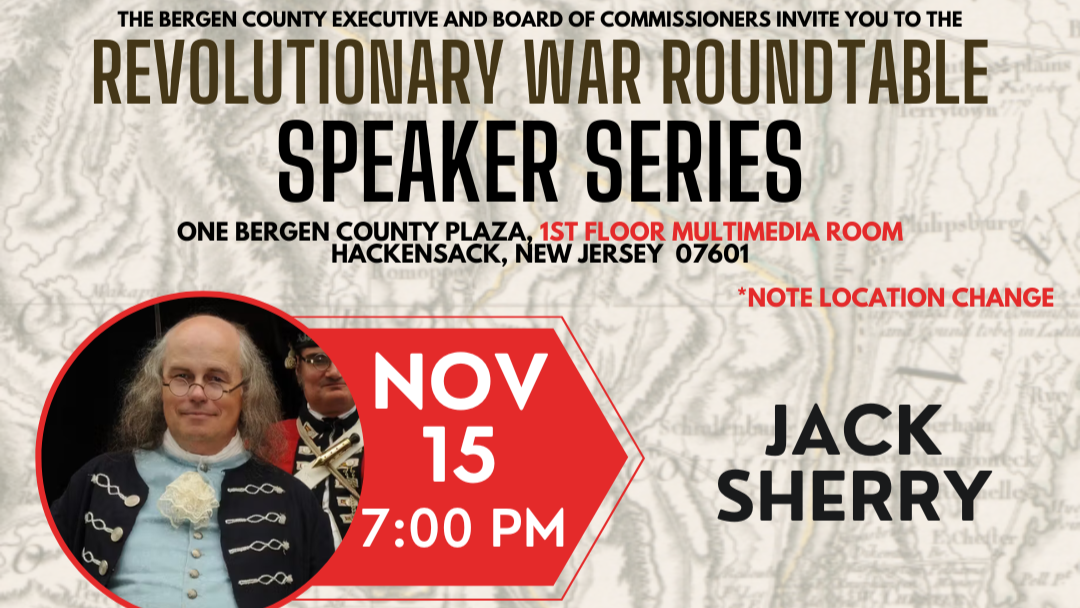 ---

Veterans Day lecture plus Revolutionary War Roundtable Speaker Series continues
Monday & Wednesday, November 13 & 15 in Hackensack
(HACKENSACK, NJ) – Bergen County Executive Jim Tedesco, III and the Bergen County Board of Commissioners invite the public to attend two free history lecture events taking place this week, presented by the Division of Cultural & Historic Affairs to commemorate Veterans Day, as well as Bergen County's 250th anniversary. The first lecture will take place on Monday, November 13, 6:30–7:30pm at One Bergen County Plaza, 4th Floor Learning Center, Hackensack, NJ. The second lecture will take place on Wednesday, November 15, 7–8pm at One Bergen County Plaza, 1st Floor Multimedia Room, Hackensack, NJ.
Monday's lecture in honor of Armistice Day, the initial Veterans Day, will feature historian Erik L. Burro, an authority on monuments in New Jersey, will highlight a variety of Bergen County WWI memorials and other N.J. monuments. He will also discuss the National WWI Monument being unveiled in Washington D.C. in 2024. Burro is a public history advocate, lecturing in New Jersey and abroad about a wide range of N.J.-related topics.
Wednesday's lecture is the third in the Revolutionary War Roundtable Speaker Series, part of the Bergen250 initiative. Historian and reenactor Jack Sherry will discuss Benjamin Franklin: his life and his role in the American Revolution. Sherry is a retired high school American History teacher and American Revolution-era Living History reenactor with over 45 years of experience.
The Bergen250 initiative aims to commemorate the 250th anniversary of the American Revolution through Bergen County's diverse lens of people, places, and culture.
The free history lecture series will continue with the following:
Wednesday, December 13, 7pm: George Washington at New Jersey's Middlebrook (Paul F. Soltis)
For more info, please call 201-336-7252 or email vdavis@co.bergen.nj.us.
The Bergen County Division of Cultural & Historic Affairs is dedicated to supporting the arts, history, and historic preservation. The DCHA plays a leading role in building a flourishing cultural environment that benefits and distinguishes Bergen County as a New Jersey cultural destination, offering programs, services, and resources in all three areas.