Tomorrow,Tuesday, November 23, 2021 Urgent Care Medical Suite located at 200 Freeway Dr, E, Suite 305, East Orange, NJ will hold a massive distribution of hundreds and hundreds of turkeys. The executives of this Urgent Care have understood the need to help those in need in our community.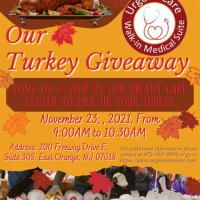 Notorious personalities will make themselves present; Reverend BolivarvFlores, Vice President of the New Jersey Coalition of Latino Pastors and Ministers, Steffie Bartley, Director of NAN which was founded by Rev. Al Sharpton, Ted Green, Mayor of East Orange, former Governor Jim McGreevey, Juan Aquino, Director of Diaspora DR, Randy Cruz, Executive Director of Bridge Consulting Company among others. 

Rabbi Abe Friedman said that part of his mission in life is to bring the necessary resources for communities of color to receive medical services, social services and that is what Urgent Care Medical Suite has become, a home for all. Rev. Flores expressed his gratitude for knowing that so many families will receive all that is necessary to have a dignified dinner as we all deserve. He is more than grateful to the members of Urgent Care for the massive sponsorship of the food. Former Governor Jim McGreevey, Chairman of the Board of the NJ Reentry Corp expressed his gratitude knowing that everyone will be receiving turkeys and all the necessary products for their Thanksgiving dinner with events like this. He also says that the Urgent Care Medical Suite sends the clear message to the community that the health center is here for them.