(Paramus, NJ)– Bergen New Bridge Medical Center celebrated its five-year anniversary event attended by elected officials, dignitaries, hospital leadership and staff, community partners, and many others.
In 2017, Bergen New Bridge Medical Center was renamed by the county as part of a plan to completely transform the hospital. An innovative alliance was formed between Rutgers New Jersey Medical School, Integrity House and Care Plus NJ Inc. to create Care Plus Bergen, Inc. which manages the Medical Center. Bergen New Bridge has focused on strengthening its core services of behavioral health, addiction treatment, long-term care and acute care while dramatically expanding access to care for all Bergen County residents.
The program began with Willie Harris, the longest active employee of the hospital with 55 years of service who led the Pledge of Allegiance. Students from the Bergen County Technical Schools at Teterboro sang the national anthem and performed an inspirational song for attendees.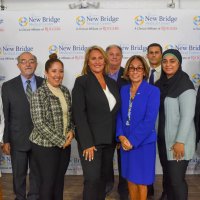 Featured guest speakers talked about the start of the renaissance of the Medical Center, the journey over the last five years and a look forward to the continued transformation and future of New Jersey's largest hospital.

"On October 2, 2017, we first introduced this incredible group as the new leadership team of BERGEN NEW BRIDGE MEDICAL CENTER focused on the mission of bridging the gap between the residents of Northern New Jersey and vital, equitable healthcare," said James J. Tedesco, III, Bergen County Executive. "The work we've done here has saved the lives of countless Bergen County residents, and we are just getting started. I couldn't be prouder of Deb Visconi and her team for driving the incredible transformation over the last five years. Today is validation that the commitment I made eight years ago was the best decision for the County and more importantly for our residents."

"These last five years are a testament to this Medical Center who helped find and hold into those who are struggling in our community, change their health outcomes and innovate how healthcare is provided to those who are most vulnerable," said Tracy Zur, Chair, Bergen County Board of Commissioners. "The list of accolades and awards Bergen New Bridge has received are a result of the sea change that has taken place here which will allow us to continue to build and grow and thrive."

"For the last 13 years this hospital has played a critical role in both my work and personal life as my brother lived in long-term care here for a decade," said Julia Orlando, Chair, Care Plus Bergen Board & Director, Bergen County Housing, Health, and Human Services. "Now, I am transitioning another family member into the care of Bergen New Bridge. It is so hard to watch our loved ones unable to care for themselves, but there is comfort in having a trusted place that understands how vulnerable we become in our surrender, and how much we need them to do what we cannot. I am grateful for the power of passion, professionalism, and persistence of the doctors, the healthcare team and everyone who works here."

"Over the next few months, we will double the size of our Emergency Department and create a unique 'Living Room' concept to better care for children, adolescents, and all those experiencing a mental health crisis. You will see technology enhancements that directly impact our ability to respond quickly and effectively to the health needs of our community," said Deborah Visconi, President and CEO, Bergen New Bridge Medical Center. "These include products like AI Chat, patient care pathways, digital health information sharing systems, online scheduling, and much more. It also means expanding our footprint directly into our communities with several new satellite locations, investing in partnerships to improve healthcare delivery, add diversity to data, and further access to technology and care to those who need it most. All these things continue our fight against healthcare disparities because as we have learned, as a society we are only as healthy and safe from future outbreaks and public health crises as our least healthy and protected neighbor."

For more information, visit www.newbridgehealth.org

ABOUT BERGEN NEW BRIDGE MEDICAL CENTER                                                                                                                     

Bergen New Bridge Medical Center, a clinical affiliate of Rutgers, is a 1,070-bed hospital located at 230 East Ridgewood Avenue in Paramus, NJ. The Medical Center is both the largest hospital and licensed nursing home in NJ and the fourth-largest publicly-owned hospital in the nation.

Bergen New Bridge Medical Center, a not-for-profit safety net facility, provides high-quality comprehensive services, including acute and ambulatory care from Rutgers New Jersey Medical School and community physicians, mental health and substance use disorder treatment, and long-term care to the greater Bergen County community. The Medical Center, including its Long-Term Care Division, is fully accredited by The Joint Commission and is in network with all major New Jersey commercial insurance plans covering 99.89% of NJ residents.

Bergen New Bridge Medical Center is a full-service hospital with a 24/7 emergency department, surgical suites, physical rehabilitation, pharmacy, laboratory, radiologic services (including digital mammography), and more than 26 medical specialties available through its Ambulatory Care Center. The Medical Center is a Veterans Community Care Provider proudly serving the healthcare needs of veterans and is a Leader in LGBTQ Healthcare Equality in the Human Rights Campaign (HRC) Healthcare Equality Index (HEI) for 2019.  Learn more at www.newbridgehealth.org.

Photo Caption:

Care Plus Bergen Trustee David Roe, Commissioner Germaine Ortiz, Commissioner Chair Tracy Zur, Care Plus Bergen Trustee Joe

Masciandaro, Bergen New Bridge President and CEO Deb Visconi, Bergen County Executive Jim Tedesco, Integrity House Chief Clinical Officer Eman Gibson, Rutgers Assistant Dean for Clinical Strategy & Development, Kent Mathisen, and Commissioner Mary Amoroso.