NAI James E. Hanson's Scott Perkins Inducted into NAIOP New Jersey Hall of Fame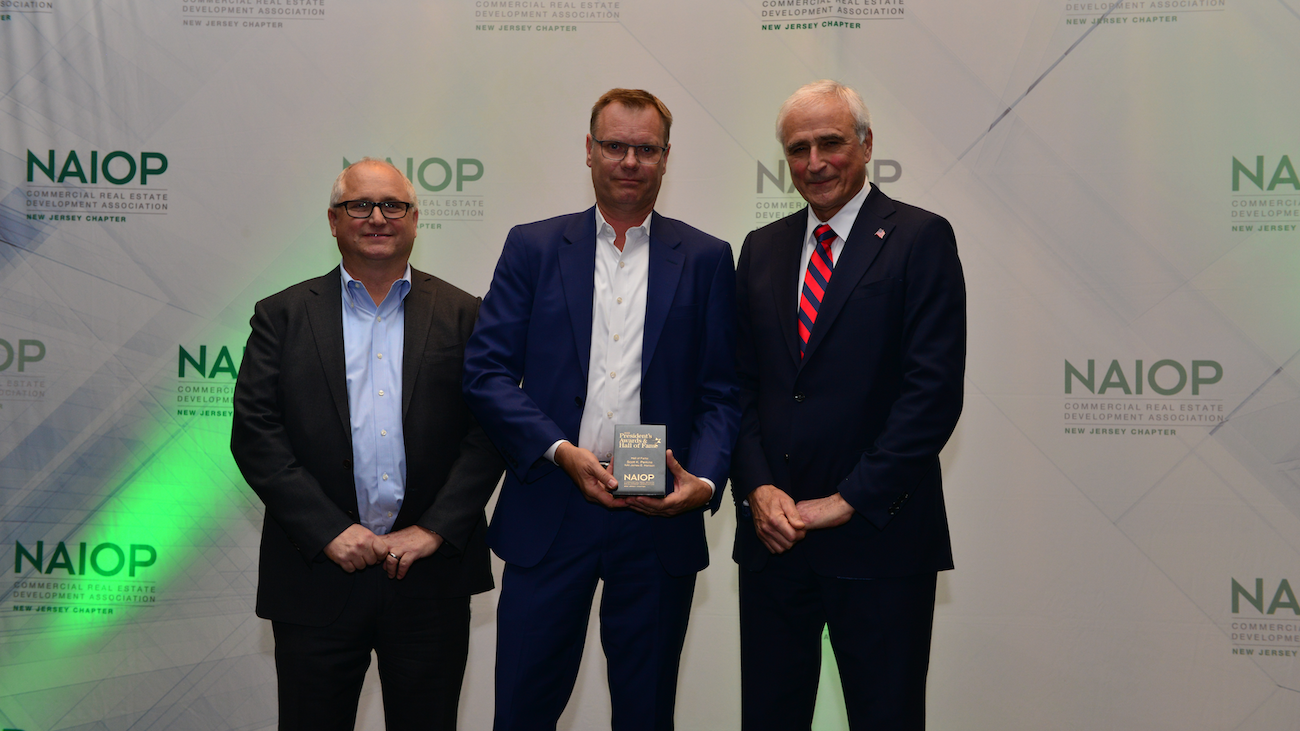 ---

East Rutherford, N.J. (November 16, 2022) – NAI James E. Hanson, the largest New Jersey-based full-service independent commercial real estate firm, announces that Scott Perkins, SIOR, CCIM, was recently inducted into the NAIOP New Jersey Hall of Fame at their 2022 New Jersey President's Awards and Hall of Fame event on November 7th at the Meadowlands Hilton in East Rutherford, N.J.
Founded in 1970, the New Jersey chapter of NAIOP is the state's leading organization for owners, developers and related professionals in office, commercial, industrial and mixed-use real estate and the logistics sector. NAIOP New Jersey's annual President's Awards and Hall of Fame event celebrates the outstanding service and contributions of its members and recognizes their extensive leadership, advocacy and career accomplishments in the commercial real estate industry.
Since joining NAI James E. Hanson in 1995, Scott Perkins, SIOR, CCIM, has established himself at the forefront of one of the nation's most active commercial real estate markets. Operating out of NAI James E. Hanson's Teterboro, N.J. office on a team with Chris Todd, SIOR and William Ericksen, CCIM, Perkins' unique ability to help clients navigate the tight market is driven by a keen understanding of hyper-local market conditions and a deep roster of contacts forged over decades in the industry. In the eight years since the formation of Perkins' team, its unmatched ability to bring deals across the finish line has seen it close 125 industrial sales and leases spanning 5.4 million square feet and $615 million in value.
In recognition of its important role in the industry, Team Perkins & Todd was recently named to GlobeSt. Real Estate Forum's Industrial Influencers list for the second consecutive year and NJBIZ's 2022 Leaders in Real Estate, Construction and Design. Perkins was also recently named to the Success Real Estate Trendsetters list for the first time in 2022.
"This honor only reinforces the reputation of an already extremely accomplished and well-respected commercial real estate professional," said William C. Hanson, SIOR, President, NAI James E. Hanson. "Scott's unwavering dedication to our firm, his clients, and industry-related organizations like NAIOP New Jersey have made him a shining example of real estate excellence and it's a privilege to have him as a member of our team."
Perkins added, "NAIOP New Jersey has been an invaluable resource to me throughout every stage of my career. As I celebrate this milestone with so many of the industry's most dedicated and admired professionals, I thank NAIOP New Jersey for the recognition and look forward to continuing to help the organization grow in the years to come."
To stay connected with NAI James E. Hanson and for updates on the latest transactions and news, please follow NAI Hanson on Facebook, Twitter, and LinkedIn.
About NAI James E. Hanson
Since 1955, NAI James E. Hanson has been a leading independent full-service brokerage commercial real estate and property management firm serving a diverse client list. NAI Hanson offers its clients strategic solutions and provides comprehensive value-added services such as office, industrial and retail brokerage, investment sales, land sales, management, government services and financing expertise.
NAI Hanson is also one of the original members of NAI Global, an international commercial real estate network with over 300 offices spanning the globe. For more information on NAI James E. Hanson, contact William C. Hanson, SIOR, at the company's Teterboro office at 201-488-5800 or visit www.naihanson.com