PARAMUS, N.J. – Bergen Community College has earned the distinction as one of only 20 "Most Promising Places to Work in Community Colleges." Sponsored by Diverse: Issues in Higher Education magazine and the National Institute for Staff and Organizational Development (NISOD) and administered by Do Good Work Educational Consulting LLC,
the award recognizes colleges that have prioritized diversity and inclusion in their organizational structures, strategic commitments and workplace environments. Program administrators evaluate colleges on items such as employee demographics, professional development opportunities and initiatives that encourage diverse experiences for personnel.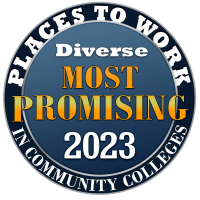 The "Most Promising" research study began in 2014 jointly commissioned by NISOD, a community college professional development organization, and Diverse magazine, which has covered minority issues in higher education since 1984. The annual survey solicits responses from the near-350 NISOD-member community colleges. The 20 2023 honorees include colleges from coast-to-coast, including Bergen.

"This recognition represents a tangible validation of our commitment to creating a model workplace - one driven by an ethic of care, personal wellness and collaboration," Bergen President Eric M. Friedman, Ph.D., said. "I am truly proud of this recognition, which once again places Bergen as a national leader among our peers."

President Friedman has prioritized inclusivity during his first two-and-a-half years in office, making the idea a strategic focus area. Among the initiatives developed in response, President Friedman created the President's Advisory Council on Diversity, Equity and Inclusion, which has sponsored projects such as a collegewide climate survey to uncover how Bergen could further enhance its inclusivity efforts. The themes of diversity, equity and inclusion also appear in the institution's newly recast mission, vision, value and goal statements.

Based in Paramus, Bergen Community College (www.bergen.edu), a public two-year coeducational college, enrolls more than 13,000 students at locations in Paramus, the Philip Ciarco Jr. Learning Center in Hackensack and Bergen Community College at the Meadowlands in Lyndhurst. The College offers associate degree, certificate and continuing education programs in a variety of fields. More students graduate from Bergen than any other community college in the state.