NJ Sharing Network's 5K Celebration of Life United Thousands of Supporters of Organ and Tissue Donation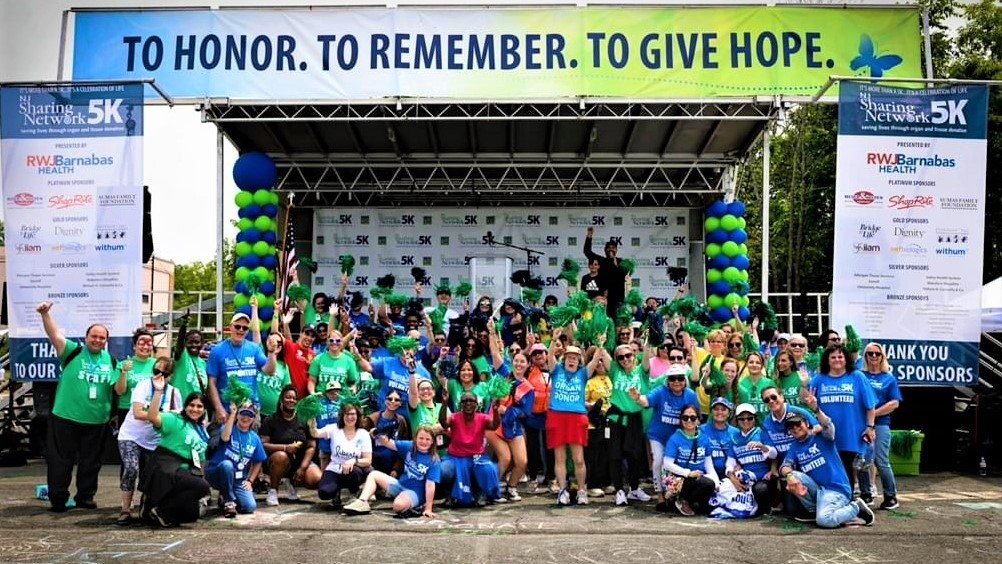 ---

(NEW PROVIDENCE, NJ) – On Sunday, June 11, thousands of people came out in support of organ and tissue donation during NJ Sharing Network's 5K Celebration of Life.
The event, presented by RWJBarnabas Health, brought together transplant recipients, donor families, living donors, hospital partners, and dedicated volunteers to help raise awareness about the power of organ and tissue donation and transplantation.
Funds raised by 5K Celebration of Life participants, teams, sponsors, and contributors support the Sharing Network Foundation. Thus far, $1.5 million has been raised for this year's campaign. Campaign contributions can be made until the end of August by visiting www.SharingNetworkFoundation.org/5K.
"Our 5K Celebration of Life has grown to become one of the Garden State's largest and most-recognized charitable 5K events," said Amanda Tibok, Executive Director of the Sharing Network Foundation. "Every dollar raised plays a vital role in powering what we do - whether it is increasing resources focused on clinical advancements, expanding programs to provide the care and support for donor families and transplant recipients, or boosting our award-winning community education and awareness activities."
Victor DiSanto, Chair of the New Providence 5K Celebration of Life, has a powerful connection to NJ Sharing Network's life-saving mission. His words spoken from the main stage helped energize the crowd at the event.
"We come together because all of us have been touched by donation and transplantation in some way," said DiSanto. "My son, Joe, is alive and well, thanks to a heart transplant he received 17 years ago. And he just got married this past weekend! None of this happens without our angel - Joe's organ donor, Natalie."
There are over 100,000 Americans – nearly 4,000 of whom live in New Jersey – waiting for a life-saving transplant. However, New Jersey's growing support for organ and tissue donation is providing hope for the future, according to Carolyn M. Welsh, President and CEO of NJ Sharing Network.
"Here in New Jersey, we have had four consecutive years of record growth in the number of lives saved and enhanced through organ and tissue donation and transplantation," said Welsh. "Last year, we saw a remarkable 21% increase in the number of organ donors and a 12% increase in the number of organs transplanted. We are deeply grateful for the exceptional efforts of our team members, healthcare partners and community supporters."
One organ and tissue donor can save 8 lives and enhance the lives of over 75 others. There are more than 2.7 million New Jerseyans registered as organ and tissue donors. To learn more and join the National Donate Life Organ and Tissue Donor Registry, visit www.NJSharingNetwork.org.