National Council of Jewish Women Bergen County Section Installed New Co-Presidents and Officers at Centennial Celebration Luncheon and Celebrated Six Women of the Century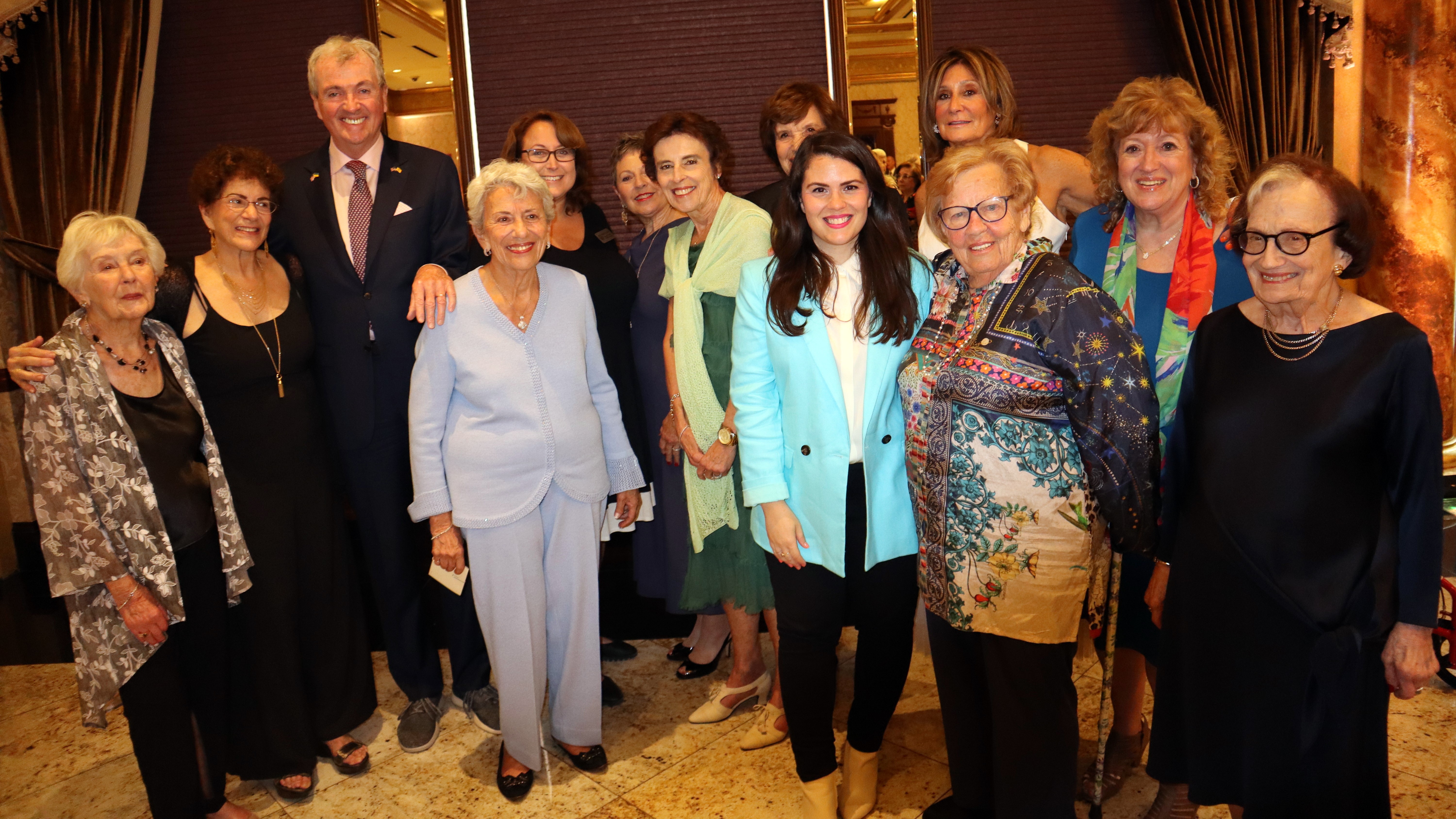 ---

BERGENFIELD, NJ (June 20, 2023)- The National Council of Jewish Women Bergen County Section (NCJW BCS) inducted three new Co-Presidents and a new class of officers at the Section's Centennial Installation and Awards Champagne Luncheon Celebration on June 15, 2023 at Seasons in Washington Township, NJ.
The event, which featured remarks by New Jersey Governor Phil Murphy and CEO of the National Council of Jewish Women, Sheila Katz. The Section's six "Women of the Century" award winners, who have shown their commitment to the Bergen County community and NCJW BCS and embody the organization's core values, were also recognized.
The Women of the Century Award winners are as follows:
Bea Podorefsky of Teaneck, NJ, Ina Miller-Silverstein of Teaneck, NJ, Ruth Cowan, longtime Bergen County resident, of Dallas, TX, Marcia Levy of Englewood, NJ, Nita Gottesman of NYC, NY, and Ann Levenstein of Teaneck, NJ.
170 attendees marked the organization's 100th anniversary with a Celebration Luncheon that featured a look back at the last 100 years of memories through a newly created short film entitled NCJW BCS: The Movie, and silent and live auctions.
Phil Murphy, New Jersey Governor addressed the National Council of Jewish Women (NCJW) Bergen County Chapter's Centennial Celebration and recognized their contributions to New Jersey noting that for 100 years, NCJW BCS has embodied the Jewish teaching of "tikkun olam", the collective responsibility to make the world a better place.
"The women of NCJW BCS are outstanding individuals who deserve to be recognized and praised," said Elaine Myerson, outgoing Co-President of NCJW BCS. "The Bergen County Section has made a lasting impact on their community and beyond."   
Newly elected Co-Presidents for the 2023-2024 term include Paula Star of Woodcliff Lake, Joan Ornstein of Alpine, and Elizabeth Halverstam of Fort Lee. Officers for the 2023-2024 term were also installed. The installation of Co-Presidents and Officers was conducted by National NCJW CEO Sheila Katz.
About Paula Star
A former Bergen County business owner of the Ridgewood Cheese Shop, past vice president of commercial lending, and current consultant for Small Business Administration (SBA) Lending, Paula is also an avid volunteer and has served as vice president of advocacy for NCJW BCS this past year. Throughout the years, she has sat on several committees within NCJW BCS. However, Paula's volunteer efforts don't stop with NCJW BCS as she has volunteered for many years in the community and beyond, sitting on her local Board of Education, Board for Bergen County's Center for Hope and Safety, Board of the Bergen/Rockland Jewish National Fund (JNF), and as a member of the JNF's Women for Israel Committee.
About Joan Ornstein
Joan has had several successful careers in fashion, business, the restaurant industry, and health and fitness, but by far her most rewarding work is that which she has done with NCJW BCS. Joan has previously served as vice president of fundraising and membership and has made tireless efforts to move the organization forward. She also volunteers with the Swim-In Program and for the past year has sat on the Communications Committee with incoming Co-President, Elizabeth Halverstam. A mom to four children and grandmother to eight, Joan is committed to making the world a better place for her children and grandchildren.
About Elizabeth Halverstam
Elizabeth has been involved with Jewish charities since she was a child growing up in England and continued her efforts long after she moved to Tenafly in the 1970s. Winner of the Section's Emerging Leader Award in 2013 and the Woman of the Section Award in 2022, Elizabeth proves to be a natural leader in NCJW BCS. She previously served as Co-President from 2017-2021 and this past year she spearheaded the Communications Department. In the past she has worked in the Council Resale Shop and served as vice president of administration. Before her time in NCJW BCS she was the executive director of the non-profit organization, Arts Horizons, where she managed every aspect of running a non-profit organization, experience that has proved helpful to her as a NCJW Co-President.
The women in NCJW organizations are essential assets to their communities and beyond, and exude invaluable knowledge, power, and wisdom Sheila Katz, CEO of NCJW noted in her speech to the Section. 
"As my second term as president comes to an end I am happy to pass the gavel down to the very capable hands of Paula, Joan, and Elizabeth," said outgoing Co-President Ina-Miller SIlverstein. "In the last 100 years the section has done so much for the community, and I know it's in capable hands as we continue into the next 100 years and beyond."
Elected officers of the Section are as follows:
Vice Presidents: Linda Walden of North Bergen, Gina Plotino of New Milford, Ginny Wasserman of Fort Lee, Marilynn Friedman of Tenafly, Flora Perskie of Fort Lee, Joan Schnuer of Hackensack, Phyllis Palley of Rivervale, Cathy Mirra of Hackensack, Fran Einiger of Hackensack and Pauline Hecht of Bergenfield, Treasurer: Liz Roditi of Tenafly; Recording Secretary: Norma Goldsmith of Teaneck.
To learn more or join the National Council of Jewish Women Bergen County Section please visit https://www.ncjwbcs.org/
About National Council of Jewish Women Bergen County Section:
Celebrating its 100th anniversary, National Council of Jewish Women Bergen County Section (NCJW BCS) is a grassroots organization of volunteers and advocates who turn progressive ideals into action. Inspired by Jewish values, NCJW BCS strives for social justice by improving the quality of life for women, children, and families and by safeguarding individual rights and freedoms.
Photo caption: (L-R) Marcia Levy, Karen Kurland (Luncheon Chair), Governor Phil Murphy, Ina Miller Silverstein, Commissioner Tracy Zur, Nita Gottesman, Paula Star, Elizabeth Halverstam, Sheila Katz, Joan Ornstein, The Hon. Loretta Weinberg, Elaine K. Meyerson, Bea Podorefsky.
Photo Credit: Hillary Viders
...