MARIDIAN PROPERTIES ACQUIRES 100+ YEAR-OLD HOBOKEN COMMERCIAL BUILDING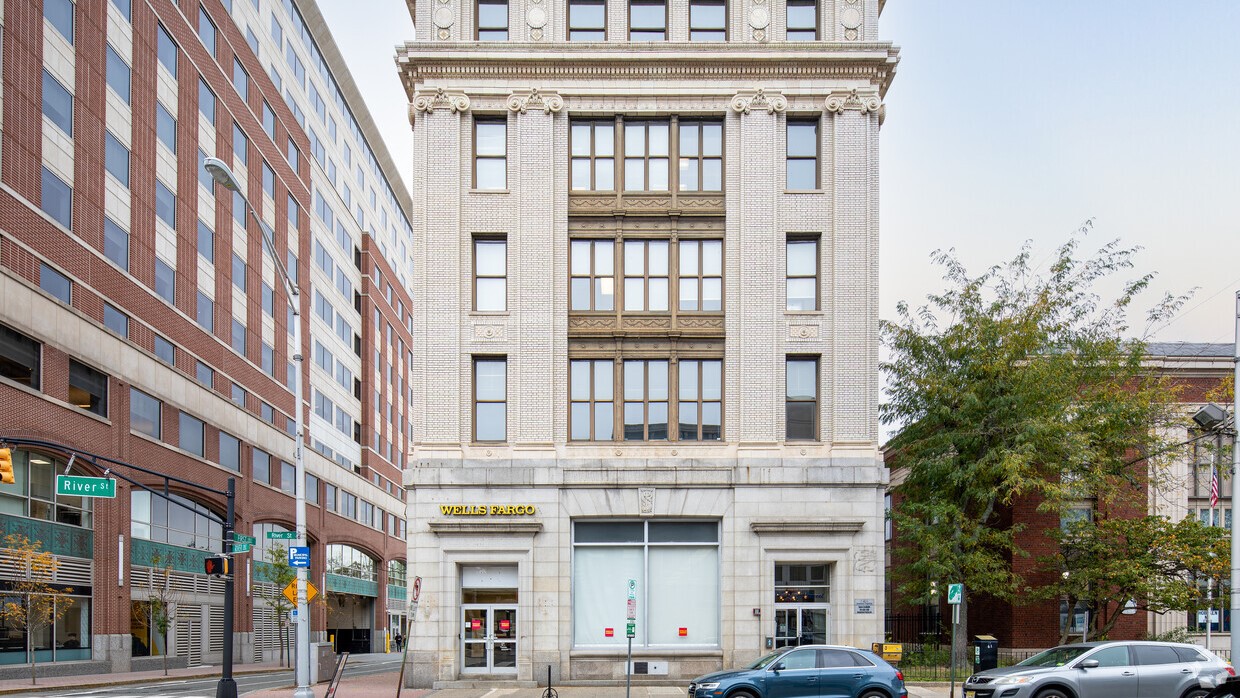 ---

Historic Office Building Near PATH Station Undergoing Modernization; Now 100% Occupied
HOBOKEN, NJ – Maridian Properties, a Hoboken-based real estate developer and property manager with an extensive portfolio of assets across Hudson County, announced today that it has acquired 95 River Street, a historic office building located in a prime downtown location less than two blocks from the Hoboken Transit Terminal and one block from Pier A Park and the Hudson River waterfront.
Newly named "Lions Gate," as a nod to the architecturally distinct frieze of lion heads that decorate its upper façade, the five-story elevator building offers 22,500 square feet of retail and office space, with the top three floors providing sweeping views of the Manhattan skyline.
Lions Gate is a magnificent masonry and terra-cotta building that was built in 1910 for the Steneck Trust Company and was last remodeled in 1983. Maridian Properties closed on the property in December 2022 and immediately implemented a full-scale modernization to reposition the building as an upscale, boutique property while preserving some of the unique character of the building. Upgrades completed to date include custom carpeting, wood floors and designer wall coverings in common areas, new wood flooring, lighting and window treatments in office suites, and the installation of a modern elevator. A full renovation of the lobby is underway to infuse the building with a chic, Manhattan-style ambiance featuring elegant stone and millwork.
Since acquiring the building, Maridian Properties has leased space to five new tenants, who have joined anchor tenant Wells Fargo, raising Lions Gate to full occupancy. Maridian Properties is accepting names for a waitlist as suites become available. The office property is also home to logistics, apparel design, law, real estate development, science, and financial firms.
"We viewed this as an opportunity to rejuvenate one of Hoboken's iconic Beaux Arts buildings and transform it into a modern office space situated in a prime location near the PATH and southern waterfront. Our vision is to create an appealing environment that caters to a wide range of commercial users, including the tech industry," said Mario Fini, Co-Founder of Maridian Properties.
"As long-time supporters and active members of the Hoboken business community, we embrace opportunities like this one that contribute to the preservation of the city's architectural heritage, attract new business, and provide the necessary infrastructure and foot traffic for our existing businesses to thrive."
Maridian Properties' focus is on boutique properties for tenants looking for commercial space in the range of 300 to 5,000 square feet, catering to a diverse clientele that includes single-suite sole proprietors, start-ups, full-floor occupancies, and various professional services such as physicians, attorneys, accountants, small creative firms, and real estate businesses. The company has a track record of building long-term relationships with its tenants, often helping to facilitate moves within its own portfolio if a tenant begins to outgrow its space.
Demand for office space in Hoboken remains strong, according to Mr. Fini, buoyed by the city's convenient location, mass transit infrastructure and diverse economy.  
For more information on Lions Gate and office suite availability, visit www.hobokenofficespace.com or call 201-222-1062.
About Maridian Properties
One of the premier boutique real estate development companies in Hoboken, Maridian Properties builds, owns, and manages a portfolio of some of the area's most iconic residential and commercial properties, right in the heart of the Hoboken's well-located Railhead District. Founded and led by Mario Fini and Patrick Capiello, the company has more than three decades of experience providing its tenants with the highest level of service and attention to detail. Its holdings span residential, office, retail and hospitality uses, with more than 200,000 square feet of commercial space and more than 200 residential units currently under management.
More information on Maridian Properties can be found on the company's website: www.maridianproperties.com.