County, Bergen New Bridge Celebrates Pride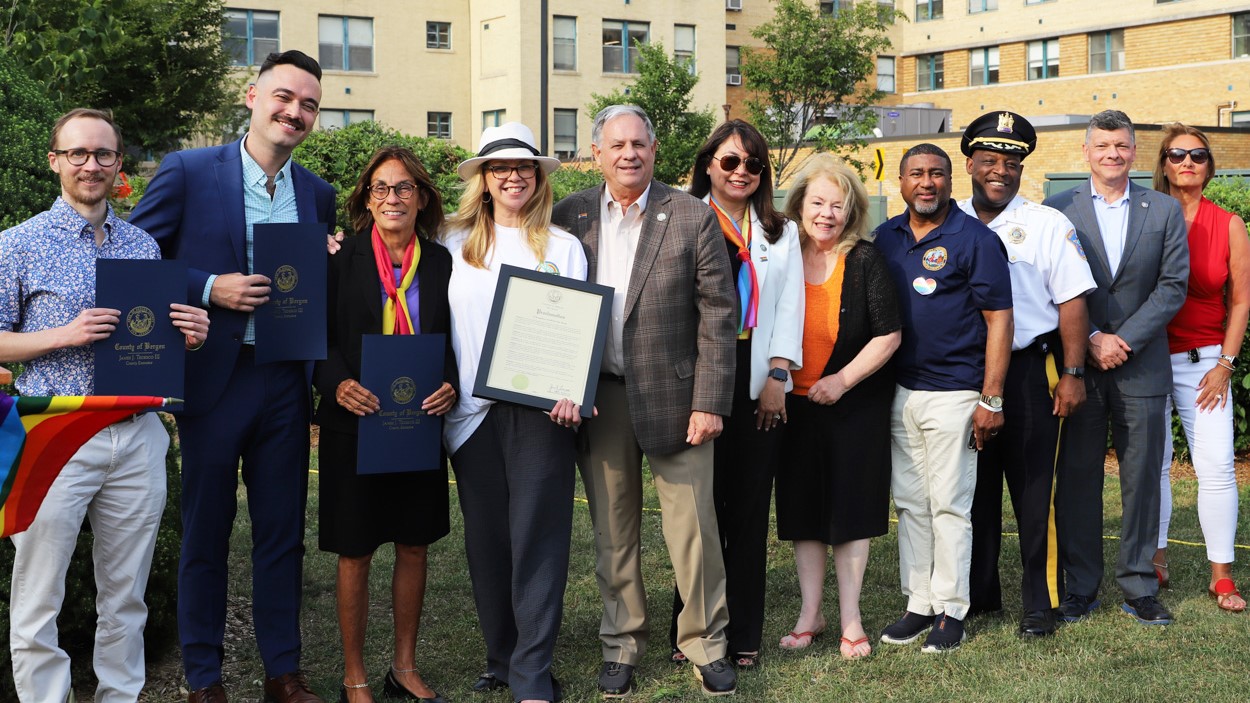 ---

(Paramus, NJ)  – On Tuesday, June 20th, the County of Bergen and Bergen New Bridge Medical Center hosted their second jointly-hosted annual Pride Celebration and Flag Raising Ceremony in partnership with the Bergen County LGBTQ Advisory Committee and Buddies of New Jersey.
"This Pride celebration is an example of what we, as a Medical Center, have been dedicated to doing by building relationships, providing services, and creating an inclusive and equitable healthcare environment," said Deborah Visconi, President & CEO, Bergen New Bridge Medical Center. "I am committed to ensuring our Medical Center provides compassionate and inclusive care to everyone who enters our doors and beyond."
"Bergen County's diversity is one of our greatest strengths and the thousands of people who identify as LGBTQ help make all our communities stronger, so it is important that we stand in solidarity against bigotry, violence, and discrimination while affirming our commitment to equal rights for everyone, including the LGBTQ community," said James Tedesco, Bergen County Executive. "Raising the flag is a symbol of our commitment to making sure the LGBTQ community has the support they need so that they feel safe and welcome here in Bergen County."
Tedesco recognized municipalities who have hosted Pride events or engaged in other inclusive activities on behalf of the LGBTQ+ community. Glen Rock was the first municipality in the county to raise a Pride flag and Tedesco presented a proclamation to Glen Rock Mayor Kristine Morieko to honor their leadership. The event also included a resource fair with community organizations and agencies, music, and refreshments.
"LGBTQ people are too often told to shrink themselves to fit into spaces that were not designed with them in mind, and we simply cannot do that when it comes to our health which is why we are on a mission to deliver competent care to the LGBTQ community," said Dr. Christopher Awwad, Medical Director, LGBTQ+ Health & Wellness Center. "As we raise the flag today, I want to encourage each of you to raise your expectations of what your healthcare experience should look like."
"Everyone has a right to feel safe, and to be who they are no matter their race, religion, gender identity, or sexual orientation," said Germaine Ortiz, Vice Chair, Bergen County Board of Commissioners. "Keep fighting, keep using your voice — we are standing right beside you, advocating for you and supporting you. We will keep spreading love until the hate is washed away."
"I would not be alive today without LGBTQ+ culturally competent healthcare if I had not accessed transition care in my early 20s," said Finn Schubert, Program Specialist, LGBTQ+ Health & Wellness Center. "We know that LGBTQ community members experience significant health disparities and our Community Health Needs Assessment showed 66% of LGBTQ+ community members had problems accessing needed medical care which is why we are committed to making sure everyone's experience here is affirming, inclusive, and appropriate to their needs."
"Raising the Pride flag is not just symbolic, it carries profound significance because it sends a clear message to those struggling with their identities assuring them that they are not alone," said Glen Rock Mayor Kristine Morieko. "It is a symbol of solidarity signifying that within our communities allies stand ready to support and uplift the LGBTQ community."
"Events like these are necessary, meaningful, important, and must continue," said Ric Miles, Executive Director, Buddies of New Jersey. "When we talk about municipalities not having the Pride flag up or haven't made the strides that need to be made, we hope that the work we are doing in these communities we hope to see more flags raised and more efforts within these communities who have LGBTQ members who need the support."
Photo caption: LGBTQ+ Health & Wellness Center Program Specialist Finn Schubert, LGBTQ+ Health & Wellness Center Christopher Awwad, Bergen New Bridge Medical Center President and CEO Deborah Visconi, Mayor of Glen Rock Kristine Morieko, Bergen County Executive James J. Tedesco III, Commissioner Vice Chairwoman Germaine Ortiz, Commissioner Mary Amoroso, Commissioner Rafael Marte, Bergen County Sheriff Anthony Cureton, and Bergen County Prosecutor Mark Musella pose for photos with a Pride Month proclamation.