Valley-Mount Sinai Comprehensive Cancer Care Welcomes First Patient for Ice Compress Clinical Trial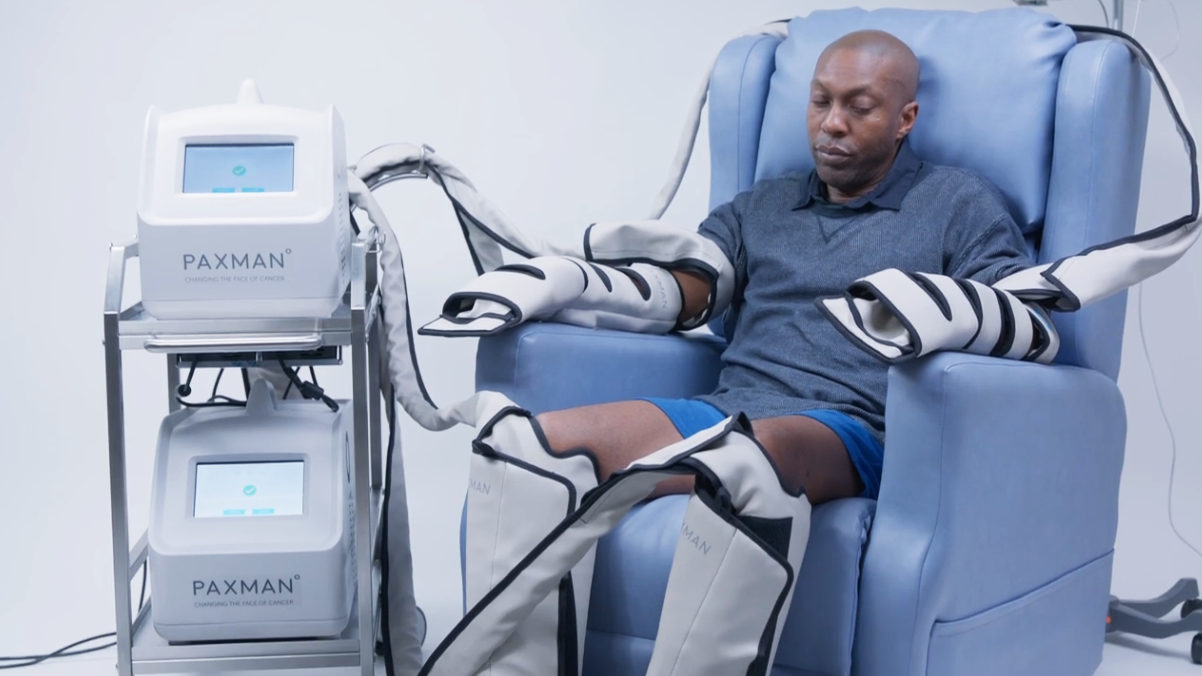 ---

RIDGEWOOD, NJ, July 12, 2023 – Valley-Mount Sinai Comprehensive Cancer Care has welcomed its first patient in the ICE COMPRESS clinical trial that is comparing the effectiveness of three approaches in the prevention of chemotherapy-induced peripheral neuropathy. At this time, Valley is the only site in New Jersey participating in the trial. The clinical trial is sponsored by SWOG Cancer Research Network in collaboration with the National Cancer Institute (NCI).
Taxane chemotherapy drugs – medications that stop cancer cells from replicating – such as paclitaxel or docetaxel, can cause a nerve disorder called peripheral neuropathy, which can cause numbness, tingling, or pain in the arms and legs. Cooling and compression of the arms and legs may help to reduce the risk of peripheral neuropathy. The trial will compare the effectiveness, safety, and efficacy of three approaches, including:
Cryocompression, a cold compression that combines cryotherapy and active compression to the arms and legs
Continuous compression, a steady compression to the arms and legs
Low cyclic compression, a low form of compression that is administered on a regular, alternating cycle between low and no pressure to the arms and legs
This study may help researchers determine if any of the three approaches are able to prevent taxane chemotherapy from causing peripheral neuropathy. Patients enrolled in the trial will be randomly assigned one of the three approaches. Each of the three approaches will be administered through the Paxman Limb Cryocompression System, a device that uses wraps to cool and compress the arms and legs.
"Chemotherapy-induced peripheral neuropathy can lead to chemotherapy interruptions and dose reductions and is often very debilitating for patients, impacting long-term quality of life," said Eleonora Teplinsky, MD, Head of Breast and Gynecologic Medical Oncology for Valley-Mount Sinai Comprehensive Cancer Care, and site principal investigator of the trial at Valley. "We are thrilled to be participating in the ICE-COMPRESS trial to see if this intervention will reduce the incidence of neuropathy in patients treated with taxane chemotherapy.
To participate, patients must be 18 years old or older and have a diagnosis of a solid tumor malignancy and be planning to begin neoadjuvant or adjuvant therapy with a specific chemotherapy regimen for a solid tumor malignancy.
Learn more about this clinical trial and the eligibility criteria here. For more information about the trial or to see if you are eligible, please call 201-634-5792. To learn more about cancer care at Valley, please visit ValleyHealth.com/Cancer.