Bergen Coordinator Honored as Emerging Leader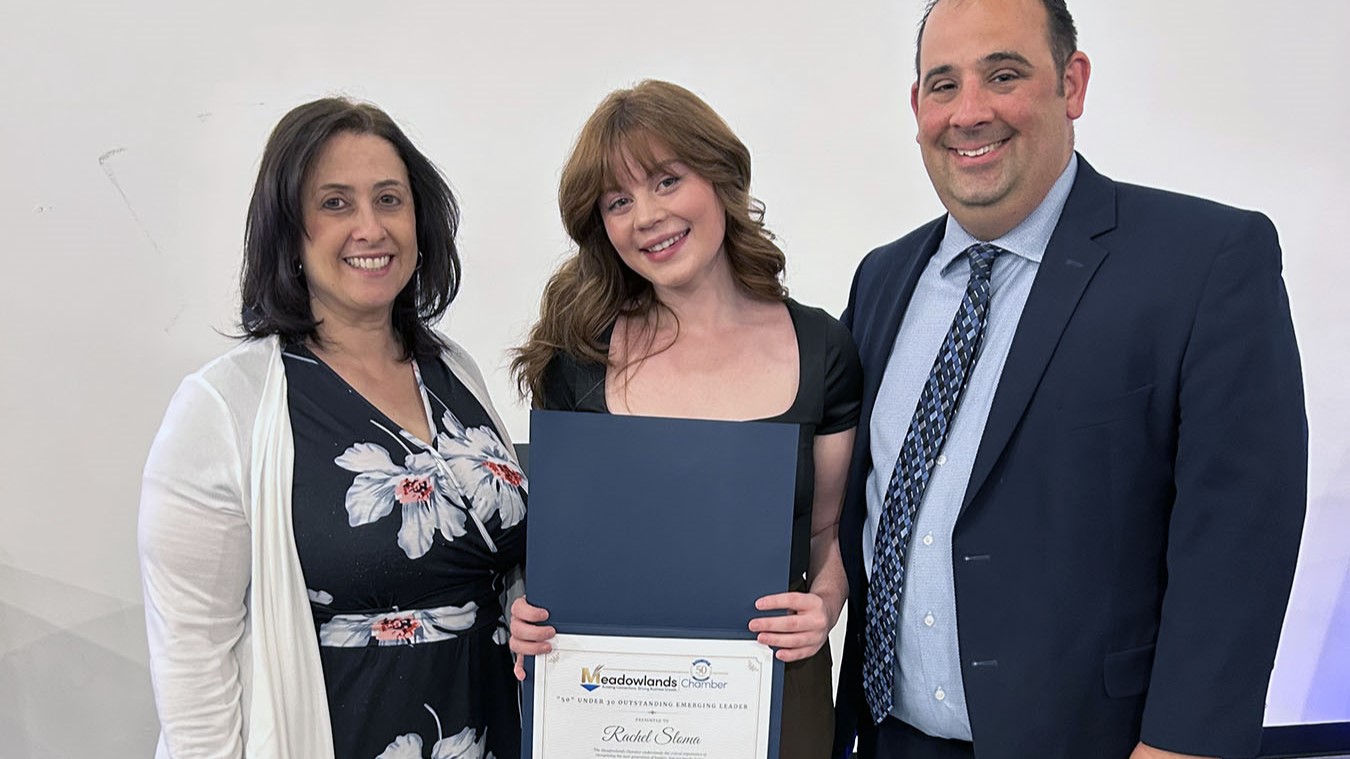 ---

PARAMUS, N.J. – The Meadowlands Chamber has recognized Bergen Community College's Rachel Sloma with its "50 Under 30 Outstanding Emerging Leader" award. In celebration of the chamber's 50th anniversary, the organization honored 50 individuals younger than 30 years-old who have made significant contributions at their places of employment. Sloma received the award at the chamber's May 18 "BizFest 23" event that took place at American Dream in East Rutherford.
"This award only gives me more ambition to create new opportunities for our students, staff and faculty," Sloma said. "I want to thank Dr. Jennifer Migliorino-Reyes for the nomination; without her and Dr. Stafford Barton's guidance and support I would not be able to have the opportunities to grow the pantry into what it is today."
Sloma directs the Bergen Cares Center, an on-campus food pantry and social service resource at the College's main campus in Paramus. Under her leadership, the center has expanded its scope of services to include a clothing closet - "Threads" - that students can visit to obtain suits, dresses and other items appropriate for professional interviews and jobs. The clothing closet launched with a soft opening in the spring as Sloma prepares for an official launch in September.
"Threads has been a monumental step to creating a safe and supportive environment for our community," she said. "Threads gives our students the opportunity to give themselves confidence and creativity in order to thrive."
The 50 Under 30 award winner began at Bergen in 2021 as a part-time staffer in the on-campus food pantry. During the COVID-19 pandemic, the College sought to expand many of its wraparound and educational support services to provide greater support for students struggling with challenges outside the classroom. Among them, it launched the Cares Center with Sloma as its first full-time coordinator.
"With the need in our community growing, we believe that a student's academic success should not be hindered by outside factors," she said. "We are here to alleviate the stress that comes with financial barriers."
For more information on the Cares Center, email bergencares@bergen.edu.
Established in 1973, the Meadowlands Chamber seeks to build connections within the business, nonprofit and education community in southern Bergen County. The College maintains membership with the organization, which includes Bergen President Eric M. Friedman, Ph.D., on its board of advisors.
Based in Paramus, Bergen Community College (www.bergen.edu), a public two-year coeducational college, enrolls more than 13,000 students at locations in Paramus, the Philip Ciarco Jr. Learning Center in Hackensack and Bergen Community College at the Meadowlands in Lyndhurst. The College offers associate degree, certificate and continuing education programs in a variety of fields. More students graduate from Bergen than any other community college in the state.
Photo Caption: Bergen Assistant Vice President of Student Affairs Jennifer Migliorino-Reyes, Ed.D., Bergen Cares Center Coordinator Rachel Sloma and Vice President of Student Affairs AJ Trump, Ed.D.