Foundation Awarded New Jersey Council for the Humanities Awards Grant for Beyond the Wall: Developing Digital Content Illuminating The Black Women's Mural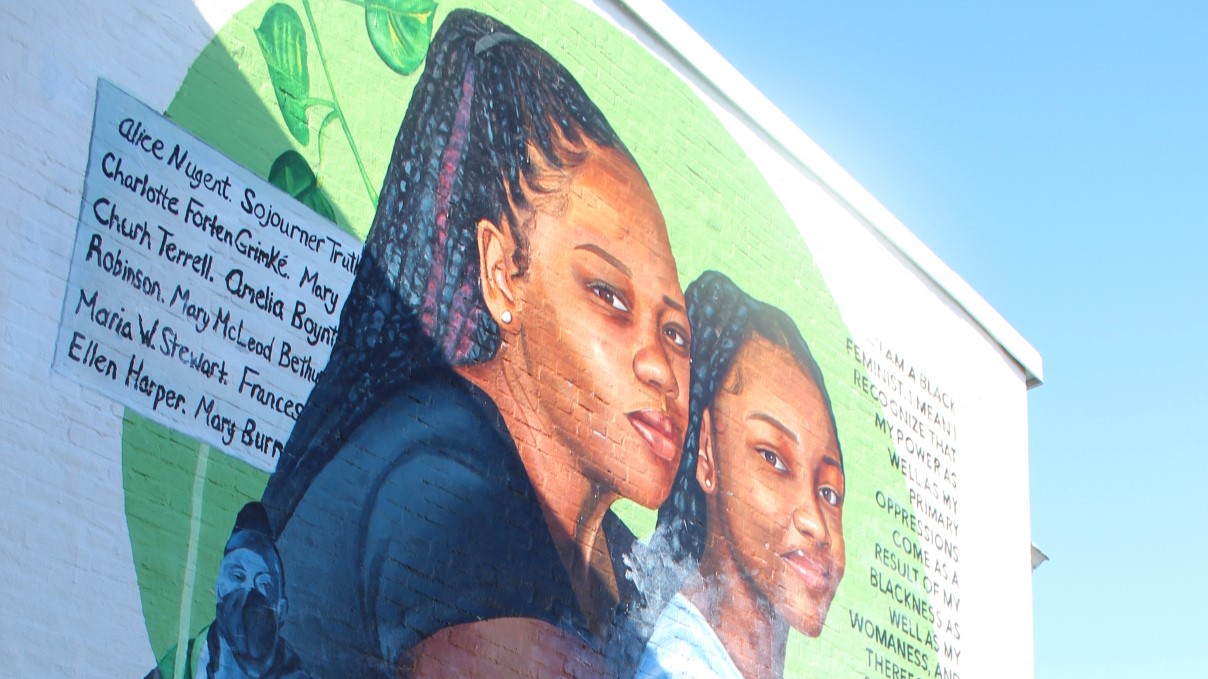 ---

(Hackensack, New Jersey; July 27, 2023) -- The Northern New Jersey Community Foundation's (NNJCF) ArtsBergen initiative announces the New Jersey Council for the Humanities (NJCH) awarded an Action Grant.
The grant supports the project, Beyond the Wall: Developing Digital Content Illuminating The Black Women's Mural, to develop an educational, inspirational website expounding on the meaning, significance and process of the creation of this public art found on the Women's Rights Information Center's building, located at 108 West Palisade Avenue in downtown Englewood, New Jersey. 

            The NNJCF, a nonprofit, 501(c)(3) tax-exempt organization based in Hackensack, New Jersey observing its 25th anniversary this year, is one of 22 organizations in the state to receive a NJCH Incubation or Action Grant.  These grants help organizations implement a wide array of humanities-based projects, including public programs, exhibitions, installations, tours and discussion groups.

Beyond the Wall Highlights The Black Women's Mural

            Beginning in mid-September of 2023, the NNJCF plans to partner with a digital designer/web creator and a humanities scholar/poet to research and write the content about The Black Women's Mural for an interactive website.  The website will serve as an educational archive and resource for viewers of the mural and also detail the histories, stories, and biographies of each of the six historic and living Black women represented.  In addition, these two products will also be created: postcards about the mural and a sign with the website link to be installed at the mural.

            In 2022, the NNJCF's ArtsBergen worked with community partners and oversaw the creation and painting of "The Black Women's Mural: Celebrating Black Suffragists and Black Women in Englewood" on the Women's Rights Information Center's building.  Artist Tatyana Fazlalizadeh painted the mural incorporating design input from Black women in the city and the larger community.  The mural celebrated Black women's voices, raised awareness about Black suffragists, and encouraged civil discourse within the community.  This sparked pride recognizing and honoring the Black community's contributions through a large-scale public artwork located in the center of one of the busiest downtowns in Bergen County, New Jersey that was revealed on November 14, 2022 in an outdoor ceremony.      

            "The NJCH grant allows us to expand upon the important work accomplished in creating the Black Women's Mural in Englewood.  This web-based resource provides both educational and inspirational aspects, bringing to life the 2-D faces on the mural surface by humanizing them with stores about who they are and why they are significant," said Danielle DeLaurentis, Associate Director of the Northern New Jersey Community Foundation.

About Northern New Jersey Community Foundation

            Founded in 1998, the Northern New Jersey Community Foundation, a not-for-profit 501(c) 3 organization based in Hackensack, New Jersey, works with local governments, school districts, businesses, non-profit organizations, and citizen groups to improve community life. Through collaborative partnerships, regional problems are identified and resolved. Opportunities are discovered and explored by talking and learning from each other and sharing ideas, best practices, services and resources. The Foundation's primary areas of work are the environment, arts and culture, public health, education, civic engagement and philanthropy. For more information, visit www.nnjcf.org, send an email to nnjcf@nnjcf.org, or call 201-568-5608. Follow the NNJCF on Facebook, Instagram, LinkedIn, Twitter and YouTube.

About ArtsBergen Initiative

            The Northern New Jersey Community Foundation's ArtsBergen initiative, a regional arts alliance, works with various stakeholders. These stakeholders encompass artists, arts organizations, businesses and municipal leaders, who use the arts to shape the social, physical, cultural, and economic identity of communities. Creative placemaking, a community-led, arts-driven approach, is used to increase vibrancy, spur economic development, and build capacity among residents to take ownership of their communities.

            ArtsBergen is the only initiative in Bergen County, New Jersey offering a range of services in creative placemaking. The initiative has partnered with multiple municipalities facilitating creative teams, developing public art and creative placemaking plans, and directing and managing public art projects to preserve and express community culture. For more information about the ArtsBergen initiative, visit www.nnjcf.org/artsbergen/. 
Photo caption: Artist, Tatyana Fazlalizadeh, painted the 'Black Women's Mural' in Englewood  Photo Credit: Samuel Lee