A Minimally Invasive Technique to Care for Aortic Aneurysms and Dissections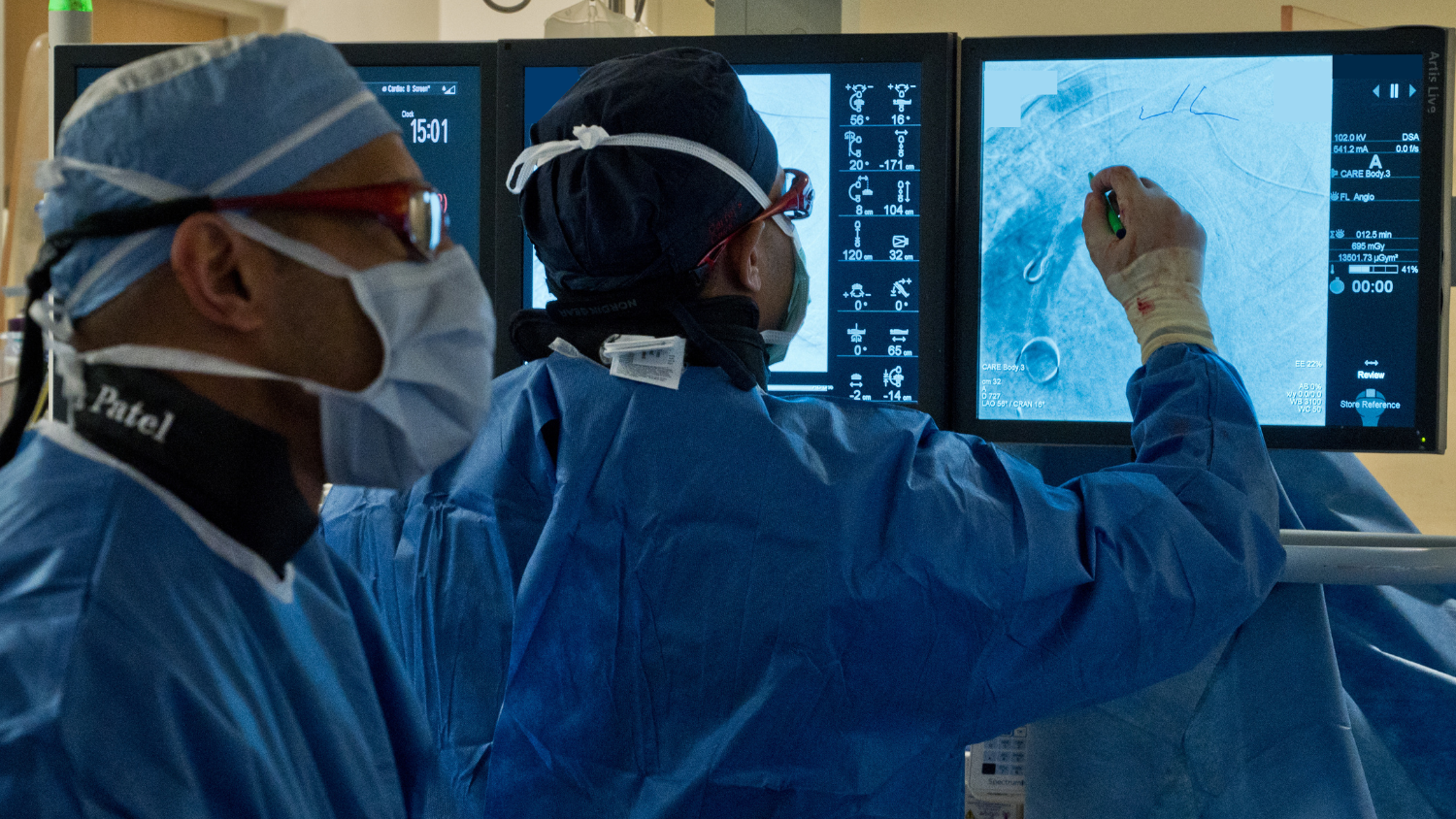 ---

RIDGEWOOD, NJ, August 16, 2023 – Patients with Type A aortic dissections – a condition that occurs when a tear develops in the ascending part of the aorta – can now be treated using a minimally invasive, endovascular procedure known as a thoracic endovascular aortic repair (TEVAR) at The Valley Hospital.
This leading-edge treatment allows cardiovascular and vascular surgeons to treat aortic dissections and aneurysms through small incisions rather than through traditional surgical intervention.   
The aorta is the main artery that carries blood from the heart to the rest of the body. Patients with aortic disease may develop an aneurysm – a weakening of the aorta as it bulges and expands. As the aneurysm grows, the wall of the aorta further weakens and there is a risk that a tear, known as an aortic dissection, can occur. Aortic dissections are surgical emergencies that require immediate intervention.
Recently, Habib Jabagi, MD, cardiovascular surgeon, and Mitul Patel, MD, vascular surgeon, performed a TEVAR procedure to treat a severe dissection involving the entirety of the aorta.
TEVAR is a minimally invasive procedure offered to patients who are not candidates for traditional surgical intervention due to age or other health factors. During a TEVAR procedure, stent grafts are implanted within the aorta to reinforce the aortic walls and restore normal blood flow. Surgeons can access the entirety of the aorta and implant the stents using catheters inserted through small (0.5 inch) incisions in the groin arteries, rather than a large incision on the chest.
"We are proud to provide a minimally invasive treatment option for our patients diagnosed with Type A aortic dissections and certain types of aneurysms," said Dr. Jabagi, who leads Valley's Integrated Aortic Program. "Using this complex procedural technique, we can repair the entirety of the diseased aorta, leaving the patient with only small incisions. This significantly reduces the patient's recovery time and associated procedural risks."
"I'm honored to be part of this collaborative effort between cardiovascular and vascular surgery. The expertise of our teams together provide our patients with access to the latest treatment offerings and leading-edge technologies," said Dr. Patel.
"During this case we used a medical laser to create openings in the stent graft in the aortic arch to gain access to the important head vessels. This allowed us to deploy smaller stents into these branches, restoring blood flow to the head and arms, without making any chest incisions," said Dr. Patel.
"This type of procedure is typically only available in large academic centers with sophisticated aortic programs," said Dr. Jabagi, who completed an Advanced Open and Endovascular Aortic fellowship at the University of Michigan's renowned Frankel Cardiovascular Center.
"When a patient suffers an aortic dissection, they need immediate intervention. With a 1-2 percent per hour death rate, they don't have time to drive hours into a large city. At Valley, we now offer this leading-edge procedure to benefit patients right here in our community. Just like any other aortic disease, patients who undergo TEVAR at Valley are enrolled in our Integrated Aortic Program, providing life-long support and management of their aortic disease," said Dr. Jabagi.  
To learn more about TEVAR, please visit ValleyHealth.com/EVAR.