2023 FREE "MUSIC AT THE BARN" SERIES CONTINUES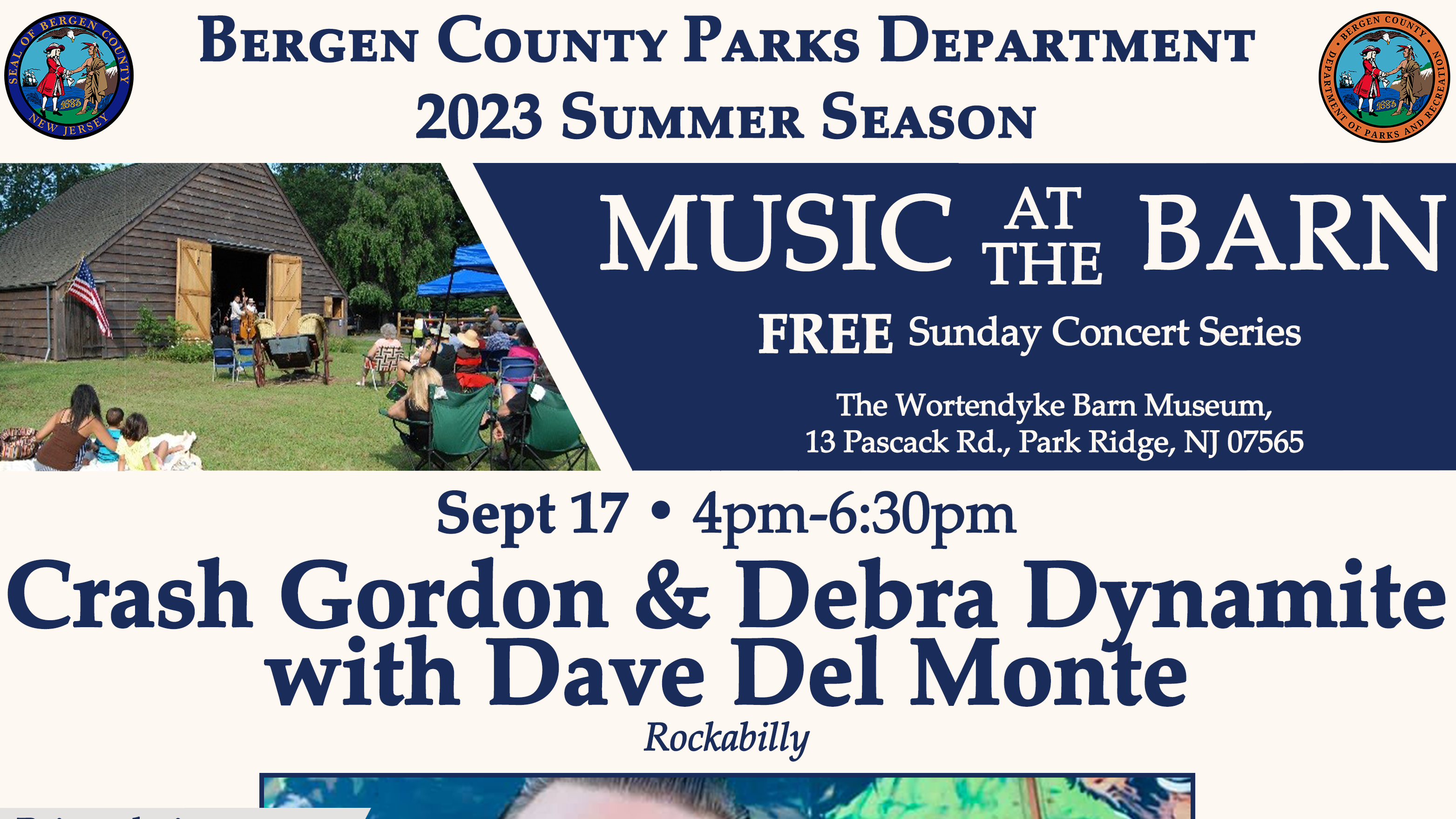 ---

Crash Gordon & Debra Dynamite with Dave Del Monte will perform on Sunday, September 17 at the Wortendyke Barn, Park Ridge
(HACKENSACK, NJ) – Bergen County Executive Jim Tedesco, the Bergen County Board of Commissioners, and the County's Division of Cultural and Historic Affairs invite the public to attend a free music concert featuring Crash Gordon & Debra Dynamite with Dave Del Monte on Sunday, September 17, from 4 pm – 6:30 pm at the Wortendyke Barn Museum, a County Historic Site (13 Pascack Rd, Park Ridge, NJ). This is the third concert in the music series.
The third performance of the free music series will be a rockabilly extravaganza featuring Crash Gordon & Debra Dynamite with Dave Del Monte. The band is comprised of Crash Gordon on lead guitar/vocals, Debra Dynamite with get-up-and-dance vocals, and special guest, singer-songwriter Dave Del Monte. The rest of the band includes exceptional musicians Jerry Scaringe on bass and Michael Olivieri on drums.
The free outdoor music series will continue with its final performance on Sunday, October 29, 1 pm–3:30 pm: The Cider Barn Band (13th Annual Bluegrass & Cider).
For concert info, please call 201-336-7292 or email glucente@co.bergen.nj.us.
Please note, seating is limited for all Music at the Barn performances, so attendees are encouraged to bring chairs/blankets as well as food.
The Wortendyke Barn has been a Pascack Valley landmark since its construction on 500 acres of land bought by the Wortendyke family in 1735.  It was used continually as a barn into the 20th century and is one of only six pure Dutch barn types in Bergen County.  In 1997, the barn opened as a museum with agriculture exhibits that include 18th and 19th century farm implements and tools, and the history of the Wortendyke family farm.