Jazz & Roots Music Festival at Kean Features Reggae, Fusion and Fun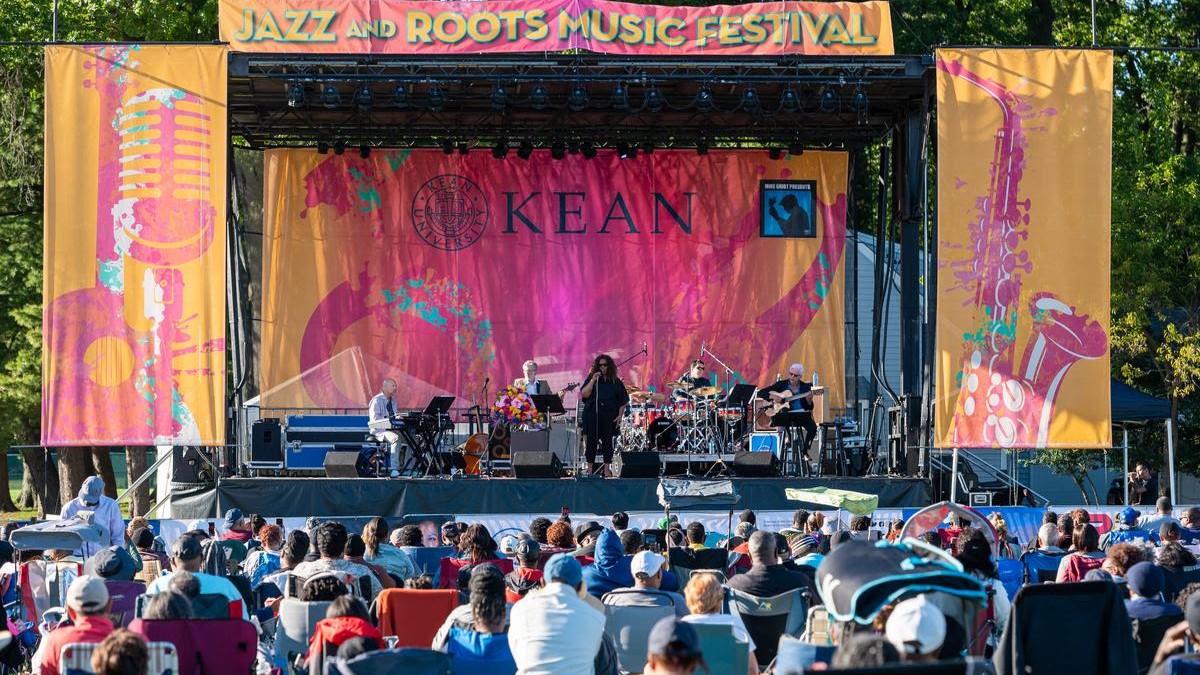 ---

UNION, N.J. — Kean University invites the public to its third annual Jazz & Roots Music Festival, a free, outdoor celebration of an eclectic variety of music, at Kean's main campus on Saturday, September 23.
Third World, one of the world's preeminent reggae bands, will headline the event, which kicks off at 3:30 p.m. on The Lawn at Enlow Hall on Kean's East Campus in Hillside.
A slate of other leading musicians in jazz, fusion, funk and R&B will also take the stage at the festival, which is produced by Kean and acclaimed bassist/producer Mike Griot. Attendees are encouraged to pack a picnic and bring their own chairs and blankets, or dine al fresco from an array of food trucks, as they relax and soak up the sounds.
"The Jazz & Roots Music Festival is one of the most exciting days on the Kean calendar, when we invite the community to join us in enjoying wonderful music on our beautiful campus," said Kean President Lamont O. Repollet, Ed.D. "Kean is an anchor institution and a cultural hub in the region. We can't wait to welcome everyone for this wonderful, free family event."
Griot noted that the number of attendees has grown dramatically since the music festival began. An audience of about 1,500 people attended the first event in 2021, and last year, almost 5,000 people filled The Lawn, he said.
"Adding marquee headliners like Diane Reeves in 2022, and Third World this year, is part of the pact Dr. Repollet and I made from the start: to create a dynamic festival experience that would compare to all other established music festivals," Griot said. "I am honored to have Mike Griot Presents partner with Kean University in this extraordinary collaboration."
This year's sponsors include Prudential, the Preservation Sponsor; Vermella Union and PSEG, Premier Sponsors; and the County of Union, an In-Kind Sponsor.
The music festival includes performances by:
Third World – Celebrating 50 years as ambassadors of reggae, Third World is one of Jamaica's most consistently popular crossover acts. The nine-time-Grammy-nominated band has performed its signature genre of reggae fusion – mixing elements of R&B, funk, pop, rock and rap – for a host of international audiences.
Stefon Harris & Blackout – The Los Angeles Times heralded Harris as "one of the most important young artists in jazz." A vibraphonist-composer, Harris is developing what is expected to be a long and extraordinary career.
King Solomon Hicks – The 28-year-old guitar phenom from Harlem is a renowned guitarist, blues and jazz singer, songwriter and composer who has performed around the world. Hicks took his first guitar lesson at age 6 and has been recording since he was 14.
Prince Hakim – Influenced by music from the 80s to today, Hakim has traveled from New York to Tokyo sharing his passion and spreading his message to "celebrate life." The son of Robert "Kool" Bell from Kool & The Gang, he has DJ'd at locations ranging from the Bonnaroo Music & Arts Festival to Carnegie Hall.
The Kean University Jazz & Roots Music Festival begins at 3:30 p.m. on the Lawn at Enlow Hall, 215 North Avenue in Hillside. No tickets are required. For further information on directions, parking, food vendors and more, visit the kean.edu/jazz-roots.
PHOTO/CAPTION:
The crowd enjoyed performances at the Kean University Jazz & Roots Music Festival in 2022. The public is invited to the 2023 event on Saturday, September 23. (Photo Credit: Kean University)
ABOUT KEAN UNIVERSITY
Kean University, New Jersey's urban research university, is a national institution of higher education recognized for its diversity, innovation, and the social mobility of its graduates. Founded in 1855 as a teachers' college, Kean has evolved into a thriving research university that supports students as they persist to graduation, give back to their communities and launch successful careers. Kean's six colleges offer more than 50 undergraduate programs, seven doctoral degree programs, and more than 70 options leading to master's degrees, professional diplomas or certifications, across a full range of academic subjects. With campuses in Union, Toms River, and Manahawkin, New Jersey, and Wenzhou, China, as well as Kean Online, the University provides students of all backgrounds an affordable and accessible world-class education. Learn more at www.kean.edu.