COUNTY, RIDGEFIELD PARK LAUNCH PARTNERSHIP TO RECYCLE EPS STYROFOAM?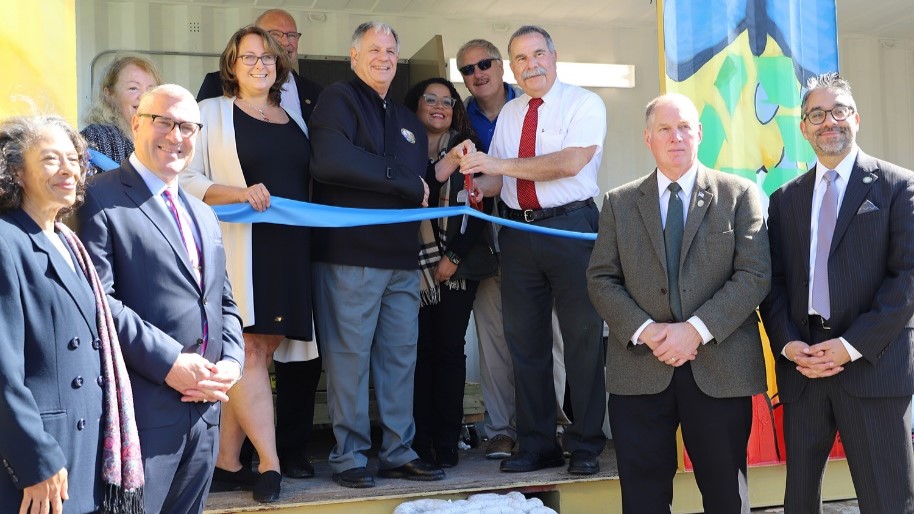 ---

RIDGEFIELD PARK, NJ – Today, officials from the County of Bergen and Village of Ridgefield Park gathered to celebrate a new partnership to provide Bergen County municipalities with an efficient means of recycling EPS Styrofoam?.
One of the most widely used packing and insulation materials across the globe, Expanded Polystyrene (EPS) also known as Styrofoam?, takes over 500 years to decompose and while highly recyclable, the product is difficult to do so at the consumer level. That is why County and Village officials have worked together over the past year to put together an agreement to procure an EPS Densifying Machine to increase sustainability and recycling programs.
The agreement (Bergen County Commissioners Resolution 748-23), which was authorized on June 21, 2023, by the Bergen County Board of Commissioners, provides that the County of Bergen allocate $40,000 to the Village of Ridgefield Park to purchase and install an EPS Densifying Machine that would reside on Village property. Per the agreement, the Village of Ridgefield Park would make the EPS Densifier available to any Bergen County municipality seeking to collect and recycle EPS Styrofoam? by entering into a local shared service agreement. The densifier, which purchased by the Village in August from the Elmwood Park based company RecycleTech Corp., is now officially operational with the capacity to densify 200lbs of Expanded Polystyrene (EPS) per hour.
County Executive Jim Tedesco applauded the agreement stating how "this is a wonderful example of county and municipal government working together to achieve a common goal."
Tedesco continued "Throughout my tenure as County Executive, we have strived to reach creative solutions through the expansion of shared services with our municipal partners, local boards of educations, and neighboring counties. "I thank all stakeholders for making today a reality and strongly encourage all municipalities to take advantage of this opportunity as we work towards building a more sustainable Bergen County."
Village of Ridgefield Park Mayor John Anlian echoed County Executive Tedesco's sentiment stating "New Jersey has 565 separate municipalities; and some might say that such a high number of separate governmental entities is an inefficient way of running things. But, when you have more people involved in our local governments, you have more people thinking about how to deal with and solve our problems. This project is a great example of where local people, with the financial help of county government, can achieve great results. We thank all involved for providing their ideas and enthusiasm for this project."
This initiative came to fruition as result of efforts from several stakeholders including County Commissioner Tracy Silna Zur, Ridgefield Park Village Commissioner Mark Olson, and the local organization Sustainable Jersey – Bergen Hub.
"The County of Bergen has already taken steps to reduce the amount of EPS Styrofoam? waste by banning its use in all county parks and facilities, but protecting our environment is a team effort. I am thrilled to see the hard work and collaboration between the County of Bergen, the Village of Ridgefield Park, and the Sustainable Jersey HUB come to fruition," said Bergen County Commissioner Tracy Zur. "This new EPS Densifier will serve as an important recycling tool while creating new opportunities for partnerships and shared services." 
"It has been a great privilege to be a part of this project. Besides those from the county and Sustainable Jersey, many individuals from several municipalities within the Sustainable Jersey Bergen Hub have worked hard to make this day a reality," said Mark Olson, Village of Ridgefield Park Commissioner. "Many times it was just one person making the difference. Over time that was many different people. Without all of them this day may never have happened."
"Sustainable Jersey is delighted to have helped the Bergen Hub launch its polystyrene education and collection program," said Gary Sondermeyer, Chair of the Board of Trustees of Sustainable Jersey.  "A sustainable future is all about partnerships and at this point 467 municipalities and 1,135 schools actively participate in Sustainable Jersey where we have awarded some $7.4 million in grants to advance local projects.  Every step we take, like today's dedication and Creative Bergen, are important to advance a future grounded in a shared ethic of sustainable living."
This collaboration will aid municipalities already collecting EPS Styrofoam?, as well as those that want to begin collections, by dramatically reducing transportation and storage costs. Before the execution of this agreement, the Village of Ridgefield Park would collect EPS Styrofoam? and truck the material as far as Sussex County and Eastern Pennsylvania to be processed. Now, with the machine centrally located in Bergen County, municipalities can more easily recycle this material which can be used to manufacture new EPS Polystyrene packaging or rigid plastic products including picture frames and moldings.
Municipalities interested in entering into an Expanded Polystyrene (EPS) shared service agreement should reach out to Village Commissioner Mark Olson at molson@ridgefieldpark.org.
Photo caption: County Executive Jim Tedesco and Ridgefield Park Mayor John Anlian cutting a ribbon alongside County Commissioners Mary Amoroso and Tracy Zur, Ridgefield Park Commissioners Mark Olson, Wanda Portorreal William G. Gerken, Teaneck Mayor Michael Pagan, Englewood Mayor Michael Wildes, and Sustainable Jersey Chairman Gary Sondermeyer
photo courtesy of the Office of Bergen County Executive