Retired U.S. Army Reserve Veteran Jenny Godnick Spearheads Organ Donation Awareness and Prepares for 3 Volcanoes Climbing Challenge in Guatemala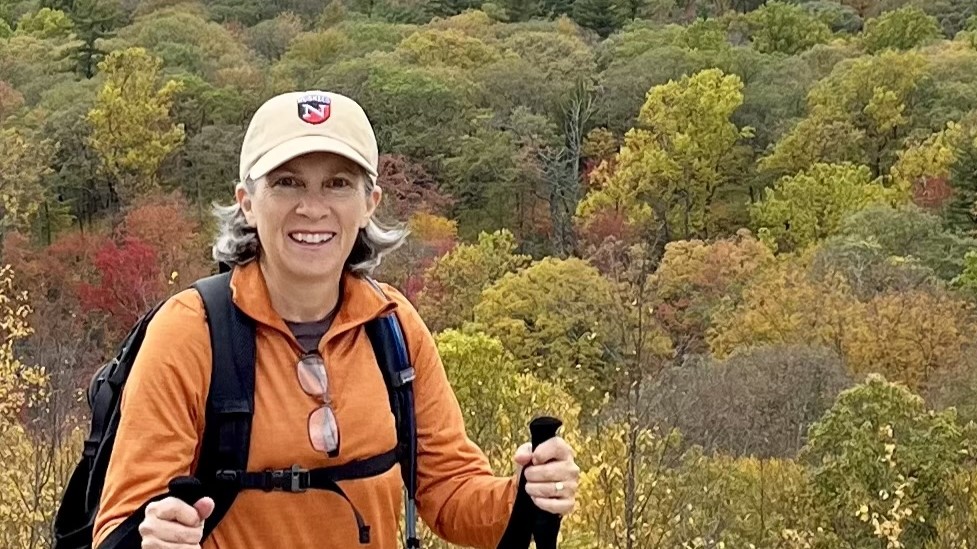 ---

(Hightstown, NJ) – In honor of Veterans Day, NJ Sharing Network, the non-profit organization responsible for the recovery of donated organs and tissue for transplant in the Garden State, is proud to spotlight Jenny Godnick, 58, a Hightstown, New Jersey resident and retired U.S. Army Reserve Veteran.
"Jenny is a true local hero who has dedicated her life to serving others, not only during her military career but also as a living kidney donor and a tireless advocate for organ and tissue donation," said Carolyn M. Welsh, President and CEO of NJ Sharing Network.
A Heroic Journey from Military Service to Organ and Tissue Donation Advocate
Jenny's selfless commitment to caring for others began with her military service. A graduate of the ROTC program at the University of Delaware, Jenny was commissioned as a second lieutenant in the U.S. Army Reserve. After a 20-year military career and mobilization during Operation Iraqi Freedom in 2005, she retired as a Major in the U.S. Army Reserve. Her commitment to service didn't end there; it was only the beginning.
Jenny's story took a heartwarming turn when she made the decision to become a living kidney donor to save the life of her brother-in-law, Steven, who was suffering from kidney disease due to Scleroderma, a long-term autoimmune disease.
"At the time, I was a registered organ and tissue donor because I believe we should all be willing to give the gift of life to others after we pass away. But I had no idea that you could donate one of your kidneys to someone else while you are still alive," said Jenny. "I educated myself and learned all about living donation, and I thought, 'well I am healthy, and I can do this.' I talked to my wife Deb and my parents, and they were all very supportive. I never thought about it as me giving up an organ. I was more focused on the fact that Steven was going to receive a kidney to keep on living."
A Living Kidney Donation That Changed Lives
After initially discovering that she was not a strong kidney match for her brother-in-law, Jenny and Steven entered the National Kidney Registry (NKR) in 2012. Jenny's donated kidney saved the life of a woman from New York as part of a 24-person donation and transplantation chain. The chain continued just a few days later, on April 28, 2014, when Steven's life was saved thanks to his successful kidney transplant surgery.
Following her kidney donation, Jenny recovered quickly and was able to re-start her daily jogging routine only four weeks after surgery. She also completed a triathlon only nine weeks after surgery.
Encouraging Others to Register as Organ and Tissue Donors
In recent years, Jenny has volunteered with NJ Sharing Network to help raise awareness and encourage others to register as organ and tissue donors. Her volunteer work includes speaking at local high schools, where she educates students about organ and tissue donation, equipping them with the knowledge they need to make informed decisions about becoming donors. Jenny is also a member of the Sharing Network Foundation's Living Donor Council and has competed in the Transplant Games of America as a member of Team Liberty.
Jenny's Next Goal – 3 Volcanoes Climbing Challenge to Promote Kidney Donation Awareness
In December 2023, Jenny is set to embark on a new challenge, the Kidney Donor Athletes' 3 Volcanoes Climbing Challenge in Guatemala. Jenny is the only New Jersey resident among 18 living donors who will attempt to climb three volcanoes in Guatemala, totaling over 13,000 vertical feet, in four days. Their goal is to demonstrate that living organ donors can accomplish any physical challenge that could be achieved by a person with two kidneys. For more information about the 3 Volcanoes Climbing Challenge and Kidney Donor Athletes, visit www.kidneydonorathlete.org.
"For me, my life has gotten infinitely better since donating my kidney to Steven," said Jenny. "I have connected with a community of organ donors and recipients. These amazing people have enriched my life by sharing stories and understanding the great need for organ and tissue donation and transplantation."
According to United Network for Organ Sharing (UNOS), there are over 100,000 Americans – nearly 4,000 of whom live in New Jersey – waiting for a life-saving transplant. However, the generosity of those in the Garden State is providing hope for the future. In 2022, the number of organ donors and organs transplanted in a single year reached all-time highs. This marked the fourth consecutive year NJ Sharing Network has reported new records, underscoring the clear trend of increased support for organ donation.
To learn more, get involved, and join the National Donate Life Registry as an organ and tissue donor, visit www.NJSharingNetwork.org.
PHOTO CREDIT – Photos of Jenny Godnick courtesy of NJ Sharing Network