ConnectOne Bank Awards Grant to The Community Chest of Eastern Bergen County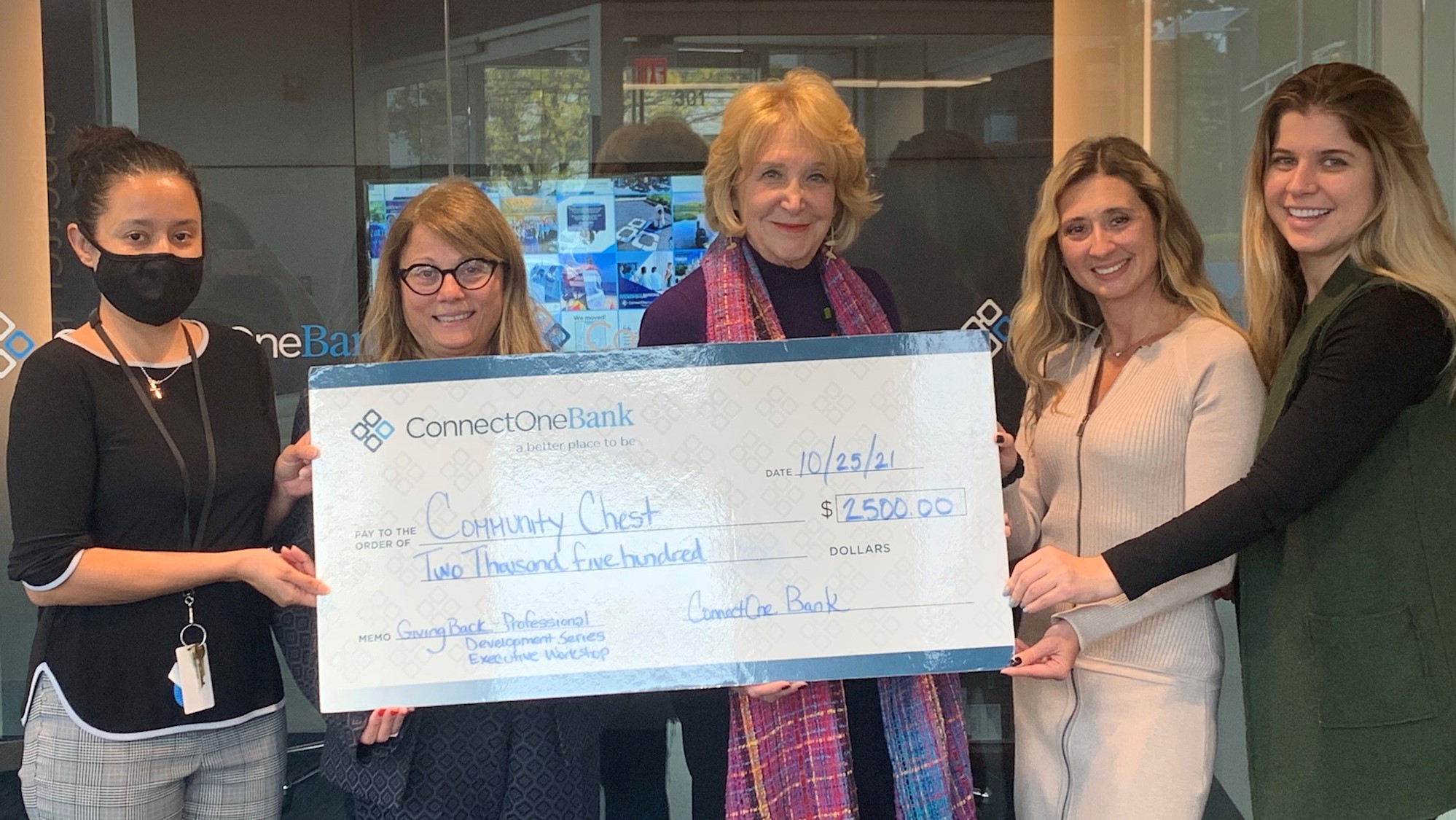 ---

--The grant provided training for nonprofit leaders to help clients returning to the workplace after experiencing trauma during the COVID-19 pandemic.--
 (Eastern Bergen County, New Jersey; November 12, 2021) -- The Community Chest of Eastern Bergen County announces the award of a grant of $2,500 from ConnectOne Bank.  The donation covered the complete cost of The Chest's Professional Development Series, "Managing in a Time of Crisis," a training series designed to provide tools and support for the managers of local nonprofits in the area.
            "The Community Chest thanks ConnectOne Bank for their generous contribution.  Their support provided a growing opportunity for leaders in the nonprofit sector to attend our Professional Development Series and learn how to help people returning to the workforce after experiencing trauma during the COVID-19 pandemic.  The series was a major success, with several attendees expressing their gratitude for being given the opportunity to receive this information and support," said Dr. Shelly Wimpfheimer, Executive Director, The Community Chest of Eastern Bergen County.
Professional Development Series
            The Community Chest of Eastern Bergen County's Professional Development Series provided nonprofit managers and supervisors with training to meet people's needs upon returning to the workplace after experiencing significant trauma during the COVID-19 pandemic.  Karen Gross, a nationally recognized expert, led five virtual sessions in the series with nonprofit managers and supervisors discussing the different types of trauma people experience and strategies they could use to help them reenter the workplace successfully.  The sessions covered these topics: strategies for leading in a time of crisis and uncertainty, understanding trauma and its impact on employees and clients, strategies for ameliorating pandemic and other trauma in the workplace, an opportunity to ask questions, and helping management exercise self-care.
            For further information about The Chest or to make a contribution, visit www.communitychestofenglewood.org or contact (201) 568-7474.  Stay updated about the organization's activities on Facebook, Instagram, and Twitter.
About The Community Chest
            Founded in 1933, The Community Chest, a nonprofit, tax-exempt organization, has supported local not-for-profit agencies for 88 years.  The Chest leads initiatives and supports nonprofits that make our communities stronger and benefit people in need in eastern Bergen County.  Each year, The Chest raises funds and allocates them to agencies demonstrating the capacity to provide services to local citizens.  The organization also provides coordinating and planning services in its communities, serving as a bridge between agencies and organizations and investing in the stability and quality of the service network. 
            The Community Chest's Board of Managers is comprised of community leaders dedicated to improving the lives of neighbors in need.  People interested in being considered for board membership may contact executive director Shelly Wimpfheimer at (201) 568-7474.
Photo Caption: From left to right: Xhensiglia Gjelaj - Executive Assistant, ConnectOne Bank; Maria Gendelman - SVP Chief Culture & Experience Officer, ConnectOne Bank; Shelly Wimpfheimer, Executive Director, The Community Chest of Eastern Bergen County; Dianne Estremera - VP Accounting Operations Manager, ConnectOne Bank; and Yanelli Callado - Banking Relationship Specialist, ConnectOne Bank
Photo Credit: ConnectOne Bank