PARAMUS, N.J. – When Bergen Community College class of 2022 valedictorian Katie Conte entered college after a 20-year career in special education, she earned more than a degree - she found a mentor.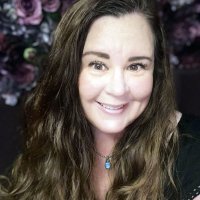 Conte, of Ringwood, wrote about Bergen education professor Melissa Krieger's impact in an essay, "How a Professor Changed My View of Community College," which the National Institute for Staff and Organizational Development (NISOD) selected for its 2022 Scott Wright Student Essay Contest prize. She will receive a $1,000 scholarship and an invitation to the NISOD International Conference on Teaching and Leadership Excellence in Austin, Texas this month. The essay highlights how Krieger's passion for teaching not only became inspirational for Conte, but underscored the quality of a community college education.

"I am thrilled to be able to recognize my mentor in this way," she said. "This is a great opportunity to highlight community college professors and how their work helps students realize and achieve their full potential. It is my hope to end the stigma surrounding community colleges and to show others the opportunities they provide."

Krieger reflected on Conte's work, describing her as an "exceptional person."

"It was an absolute honor to find out that Katie wrote a winning essay describing me as her mentor," she said. "I know Katie gives me the title of 'mentor,' yet her work ethic, willingness to serve others and deep engagement with the world is an inspiration to me. She has made significant contributions to the college and community, all while balancing her family, school and work life."

Conte currently serves as the adult services manager for Bergen County Special Services' adult day program, Stepping Stones. She has worked in the special education field for more than 20 years as an instructional aide, registered behavior technician and camp director.

"My goal is to not only advocate for, but to help develop inclusive programs for students and adults with special needs," she said. "The programs would provide structure, promote independence and build a sense of purpose for these individuals."

Conte also leads numerous community outreach programs. Along with her three nieces, she started Stockings for Seniors, collecting toiletries for St. Joseph's Home for the Elderly in Totowa. She has also volunteered for the Special Olympics, the Girl Scouts of the USA and Ringwood Parks and Recreation as a basketball coach.

At Bergen, Conte has provided leadership for Alpha Epsilon Phi chapter of Phi Theta Kappa, which recently earned a number of international and regional awards recognizing their honors in action project that highlighted the complexities of "identity" in America and what it means to the Korean immigrant community. She has also earned individual awards such as induction into the Phi Theta Kappa Regional Chapter Officer Hall of Honor, the 2022 Coca-Cola Academic Team Gold Scholar and even had a paper published in the Nota Bene Literary Journal. Conte also earned a spot on the New Jersey All-State Academic Team. She will complete her Bergen tenure as the top student in the graduating class at the College's commencement ceremony May 19 at MetLife Stadium.

Based in Paramus, Bergen Community College (www.bergen.edu), a public two-year coeducational college, enrolls more than 13,000 students at locations in Paramus, the Philip Ciarco Jr. Learning Center in Hackensack and Bergen Community College at the Meadowlands in Lyndhurst. The College offers associate degree, certificate and continuing education programs in a variety of fields. More students graduate from Bergen than any other community college in the state.