BERGEN COUNTY ANNOUNCES FREE HISTORY LECTURE SERIES TO CELEBRATE BERGEN250
---

Revolutionary War Roundtable Speaker Series begins on Wednesday, September 13 in Hackensack
(HACKENSACK, NJ) – County Executive Jim Tedesco, the Board of Commissioners, and the County Parks Department announce the Revolutionary War Roundtable Speaker Series, a free lecture series that is the first of planned events by the Division of Cultural & Historic Affairs to commemorate Bergen County's 250th anniversary. The first lecture in the series will take place on Wednesday, September 13th at 7pm in the One Bergen County Plaza 4th Floor Learning Center in Hackensack, NJ.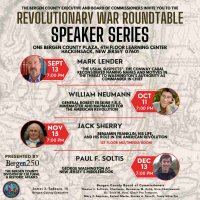 The Bergen250 initiative will commemorate the 250th anniversary of the American Revolution through Bergen County's diverse lens of people, places, and culture.

The first lecture in the series will discuss "The Usual Suspects: The Conway Cabal reconsidered naming names and motives in the threat to Washington's authority as Commander in Chief" featuring historian and professor Mark Lender. Dr. Lender received his Ph.D. in American History from Rutgers University, is a professor and former Vice President of Academic Affairs at Kean University, and is an author of over a dozen books, articles, and reviews on early American social, military, and institutional history.

The free history lecture series will continue with the following:

Wednesday, October 11, 7pm: General Robert Erskine F.R.S. Minemaster and Mapmaker for the American Revolution (William Neumann)

Wednesday, November 15, 7pm: Benjamin Franklin, His Life, and His Role in the American Revolution (Jack Sherry) *LOCATION CHANGE: 1st Floor Multimedia Room, One Bergen County Plaza, Hackensack

Wednesday, December 13, 7pm: George Washington at New Jersey's Middlebrook (Paul F. Soltis)

For more info, please call 201-336-7252 or email vdavis@co.bergen.nj.us.

The Bergen County Division of Cultural & Historic Affairs is dedicated to supporting the arts, history, and historic preservation. The DCHA plays a leading role in building a flourishing cultural environment that benefits and distinguishes Bergen County as a New Jersey cultural destination, offering programs, services, and resources in all three areas.