Events Showcase STEM Success at Bergen
---

PARAMUS, N.J. – The Bergen Community College STEM program capped another successful year with an invitation to the Community College Innovation Challenge sponsored by the National Science Foundation and American Association of Community Colleges as one of 12 finalists.
The innovation challenge spotlights community college student teams working with faculty mentors to use STEM in solving real-world problems. The team earned the bid on the strength of an electric go-kart project and even had the chance to present their results for government officials on Capitol Hill.
"Our team designed, built and tested a fully functioning electric go-kart, but more importantly, they documented everything they did so that other community college and high school students could incorporate the design challenge into the curriculum at their school," faculty mentor and professor PJ Ricatto, Ph.D., said. "What better way to turn students on to electric vehicles and maybe even consider a career as an EV technician! You also get to drive around in your homework when you are done."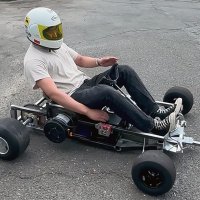 Student Sebastian Matio-Smith, of Fair Lawn, and alumni Richard Boada ('23), of Paramus, and John Griffith ('23), of Ramsey, developed an electric go-kart prototype with a top speed of 40 mph and a driving time of approximately two hours at 80 percent power with an adult driver. The team developed the go-kart in the College's STEM Student Research Center - the nation's only one of its kind at a community college.

"Representing Bergen Community College at a national competition was surreal," Boada, the team leader who graduated with a degree in engineering science from Bergen and now studies mechanical engineering at Rutgers University, said. "The fact that our project is among the top twelve STEM Projects in the United States shows that hard work will find a way to blossom and reveal itself to the world."

The students also thanked Industrial Design Technology professor Mark Balzarette, who remained instrumental in helping them with the build, especially with fabricating special parts and welding.

The team's best practices guidebook contains all the information necessary to build the go-kart, along with their design suggestions that prioritize accessibility in terms of skill, budget and time constraints. They hope the document will become a template used at community colleges and technical high schools to inspire the next generation of sustainable energy leaders.

The go-kart project represented one of many that STEM students worked on throughout their time at Bergen. The College sponsors a STEM project showcase at the end of the academic year to provide students with a chance to share their work with an expert panel of judges. Business leaders from companies such as Volvo Car USA, faculty from colleges such as the New Jersey Institute of Technology and even members of the NJ Commission on Science, Innovation and Technology participated in this year's showcase event in August at the College's main campus. Projects included a biomimetic prosthetic arm designed with affordable materials and 3-D printed components, a vertical farming operation and an organic volatile compounds detector.

"It proved to be a wonderful venue to establish connections, network and get inspired about the future of STEM," Bergen Dean of Mathematics, Science and Technology Emily Vandalovsky, Ph.D., said.

Based in Paramus, Bergen Community College (www.bergen.edu), a public two-year coeducational college, enrolls more than 13,000 students at locations in Paramus, the Philip Ciarco Jr. Learning Center in Hackensack and Bergen Community College at the Meadowlands in Lyndhurst. The College offers associate degree, certificate and continuing education programs in a variety of fields. More students graduate from Bergen than any other community college in the state.

Photo Caption: Bergen alumna Richard Boada ('23) driving an electric-powered go-kart his team created.