The Artistic Trio Exhibits Their Artwork at The Gallery at West Side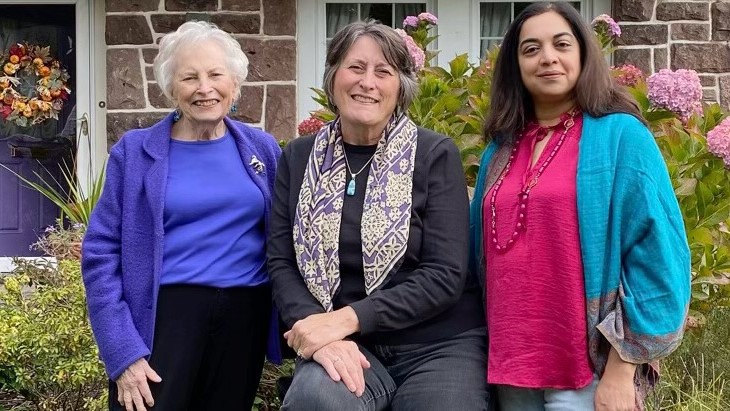 ---

RIDGEWOOD—Three friends who share a love of art – Lisa Hahn, Pat Smythe and Shantala Kaikini – have joined together to showcase their work at The Gallery at West Side Presbyterian Church for the month of November.
The women inspire each other when they get together to paint and share their projects when working solo. They are active members of the Arts Council of Glen Rock and Creative Bergen, a countywide arts nonprofit. Each was selected to participate in the Ridgewood Arts Foundation's ARTober exhibition at The Stable in Ridgewood.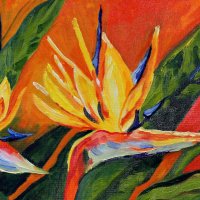 Lisa Hahn creates stained glass windows and stained glass-on-glass mosaics, and also works in oils and pencil. She is inspired by nature and draws and paints en plein air whenever possible. Many of Lisa's stained glass creations are inspired by the natural world, either in the colors of the glass or the composition, with designs reflecting flowers, birds, fish and landscapes, to name a few. Drawings from her recent trip to the Cotswolds in England also are on display in The Gallery. Lisa received her B.A. in Fine Arts from the University of Northern Colorado. She lives in Glen Rock and is a lifelong member of West Side Presbyterian Church.

Pat Smythe works in watercolors and is drawn to colorful subjects – flowers, landscapes, stone buildings, village scenes and beautiful scenery. She also creates charming portraits of homes and pets. Pat studied Art and Graphic Design at Pratt Institute, followed by a year at the Stuttgart State Academy of Art and Design. Upon returning to the States, she began her career in book publishing as a designer and art director. Eager to get back to creating art again, she began studying watercolor painting at the Ridgewood Art Institute with Charles Brandenburg in the late 1990s. Recently, Pat's work has been shown at the Bergen County Art Amble and Arts Fest in Glen Rock, where she resides. 

Shantala Kaikini's work as a mixed media artist is deeply influenced by the rich culture and history of India. Currently, she is exploring miniature painting techniques and materials, drawing inspiration broadly from the immense historical repository of Indian art. Her natural curiosity to learn often drives her to tell stories of everyday people, unsung heroes, forgotten objects and vibrant traditions in her work. Shantala has a B.F.A. in Applied Arts and an M.F.A. in Art History from CIAS Bangalore University in India. She lives in Upper Saddle River.

Stop by The Gallery to see The Artistic Trio's exhibit on weekdays from 8:00 am to 4:00 pm or between 8:00 am and 1:00 pm on Sunday. See something you like? Bring it home! West Side receives 20 percent of sales. 

Founded in 1912, West Side Presbyterian Church is a welcoming, inclusive church where people of all ages grow in faith, form lasting friendships and help our neighbors in need. West Side is located at 6 South Monroe Street in Ridgewood, NJ. For more information, please visit westside.org.