The Table Kitchen & Bar and Jerzey Slingers Presents the Jerzey Slingers x David's Barbershop Pop Up Shop
---

Monday, November 27, 2023, 6-10 PM to Benefit Movember – Men's Health Month
Event Details:
Charity: Movember (Men's Health Month)  
Date: Monday, November 27, 2023
Time: 5 PM - 10 PM (MAIN event starts at 6PM; VIP doors open at 5PM)
Location: The Table Kitchen & Bar, 400 Claremont Ave, Jersey City 
Theme: Harley Davidson
Partners: David's Barbershop, Jerzey Slingers & The Table
Tickets: EventBrite – parking across the street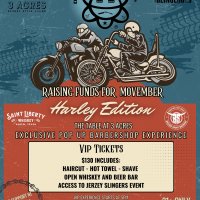 Jersey City, New Jersey – November 1, 2023 – It's Movember again and for men it always begins with – Am I growing a beard? A mustache? A mane? Then at the end of the month – how – where do I cut it? This year, do it in style as The Table Kitchen & Bar announces the Jerzey Slingers x David's Barbershop Pop Up Shop at The Table Kitchen & Bar at 400 Claremont Ave, Jersey City. This unique event brings together the world of bartending with men's health awareness and men's style for an unforgettable evening, all while supporting a great cause - Movember. Tickets range from $70 - $130 with a percentage of proceeds going to Movember.

"We are thrilled to create this fun and awareness-building charitable event to benefit Movember, to raise money for a great cause," said Jefferson Barragan, General Manager of The Table Kitchen & Bar. 

"Jerzey Slingers is an organization of New Jersey Hospitality professionals who create events to raise awareness and money for charitable causes. The Pop-Up Experience with David's Barbership will be a full barbershop experience in our Private Event Space (Community Room) where you can hang at the barbershop, get a cut, complete with a whiskey and beer bar," said Alexis Ramirez, Jerzey Slingers. "Because by the 27thof the month, it'll be time for a haircut!"

Event Highlights:

Ten NJ bartenders and five spirit brands compete in a cocktail-slinging showdown

Regular ticket holders enjoy creative cocktails and specialty made bites. VIP ticket holders have access to open whiskey and beer bar.

Showcase New Jersey's finest barbers, enjoy a haircut, with a whiskey & beer bar

A portion of the proceeds will be donated to Movember – Men's Health Month

Get your tickets now before they sell out!

 

In this unique partnership, Jerzey Slingers has teamed with David's Barbershop to host a Pop Up Barbershop during the event. The pop-up shop will provide a full barbershop experience in The Table's Private Event Space, complete with a barbershop atmosphere, haircuts, and a whiskey and beer bar. Tickets start at $70 and go up to $130. General admission ticket includes access to the Jerzey Slingers event: select specialty cocktails, small bites, and an a la carte menu. VIP tickets include: full barbershop experience including a haircut, hot towel, shave, paired with an open whiskey and beer bar and full access to the Jerzey Slingers event.

 

Don't miss out on this incredible event! Get your tickets on EventBrite and join us for an unforgettable evening of bartending excellence, style, and camaraderie.

Event Partners and Sponsors – Follow Us on Instagram:

Jerzey Slingers - @jerzeyslingers

David's Barbershop - @davids_barbershop

The Table Kitchen & Bar - @thetable_jc

3 Acres - @3acres_jc

Movember - @movember

NJ "Slingers" – Bartenders Include

Vanessa Marquet – THE MADISON

Robert Falco – CROWN SHY

Domonique Worsley – HUDSON & CO

Juan Arboleda – THE TABLE

Ricki Serapiglia – JUNTO

Eric Fernandez – BLUE STEEL PIZZA CO

Lauren Vazquez – CONCOURSE CLUB

Mike Vader Horn – QUEEN JAYNES

David Hudspeth – FIRE & OAK

Francisco G. Sancho - DULLBOY

Event Sponsors:

Primo

Ten to One

MisGuided Spirits

Maker's Mark

Palomo Mezcal

St. Liberty

Bolero Snort Brewery

Liquid Death

About Jerzey Slingers

Jerzey Slingers, founded in 2021 by Alexis Ramirez, was born out of a desire to celebrate hospitality in New Jersey without the competitive edge. As a native of NJ who frequently crossed the river to NY for a challenging and competitive bartending experience, Alexis believed that it was time for NJ bartenders to shine. This vision led to the creation of Jerzey Slingers, with events that showcase bartenders' skills without the pressure of competition, creating a fun and inviting atmosphere. The events quickly gained popularity and always include a charity component chosen by the venue to raise funds for a good cause.

About Movember

In 2003, you helped us start a movement for men's health. A movement that has since funded over 1,320 men's health projects around the world, challenging the status quo, shaking up men's health research and transforming the way health services reach and support men. We've taken on three of the biggest health issues affecting men: mental health and suicide prevention, prostate cancer, and testicular cancer. As a result, men are living healthier, longer lives. This movement started with 30 Mo Bros. Now, it claims a headcount of over 6 million. And we're not done yet!

About The Table Kitchen & Bar

The Table is an upscale American dining experience curated around Chef Daniel Latham's signature American classic dishes that delight the eye as well as the palate. The Table Kitchen & Bar is situated in an area that is experiencing a wave of new investment and interest, including a bevy of new residential developments, New Jersey City University's (NJCU) planned 22-acre University Place expansion project that will include a Performing Arts Center, and the 95-acre Bayfront redevelopment. The Table Kitchen & Bar is just minutes from Downtown Jersey City and Manhattan via the Hudson Bergen Light Rail West Side Avenue Station located across the street.  The restaurant is a quick drive to the New Jersey Turnpike and Routes 440 and 1 and 9.  Ample free parking is available across the street on weekends.