Bergen County Academies Fall Play
---

30 student written plays in just one hour - what can be better? Bergen County Academies would like to announce that students from all over Bergen County will be performing in this year's fall play, Can I Even Put This On My Resume?
Inspired by the New York Neo-Futurists, this play will take you through a wide range of emotions with 30 original plays written by the students in the cast- and they all have to be performed in 60 minutes.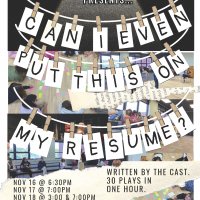 From full cast dance numbers to personal stories that shaped the cast members and their lives, this is a production which you don't want to miss. The BCA theatre department invites you to see this one-of-a-kind play on November 16 at 6:30, November 17 at 7:00, and November 18 at 3:00 and 7:00. Tickets can be purchased for $12 for students and senior citizens, and $15 for general admission at bergen.org/theatre. For more information, follow the BCA theatre Instagram account @bca_theatre_!