Paramus Detective Lieutenant and L.E.A.D. Instructor, Jimmy Teehan, Promotes L.E.A.D.'s Mission of Bringing Law Enforcement and Communities Closer Together by Guiding Students to Donate Toys to Families in Need this Holiday Season
PARAMUS, NJ – December 13, 2022 – Each year, students a part of the Law Enforcement Against Drugs & Violence (L.E.A.D.) program in Paramus participate in a holiday toy drive that the Paramus Police Department has been hosting for families in need since 1995. Jimmy Teehan, Paramus detective lieutenant and an instructor for L.E.A.D., a nationwide nonprofit that works with communities to help students understand the dangers of drugs and violence, has led the 350 fifth grade L.E.A.D. students at East Brook and West Brook Middle School, instructed by Police Officer Lou Cardone, to see the importance of donating toys in this year's drive from November 17 to December 14.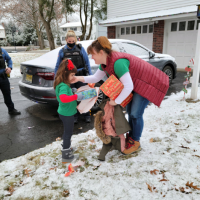 "It's an enormous accomplishment that the Paramus Police Department has been throwing its annual toy drive for 27 years, and we're thrilled that the L.E.A.D. students in Paramus continue to bring joy to those that are less fortunate during the holiday season," said Nick DeMauro, CEO of L.E.A.D. "By getting their students involved in the toy drive each year, the L.E.A.D. officers in Paramus are furthering our mission to bridge the gap between police forces and communities."

L.E.A.D. provides services "on the street" and "in the classroom" as it brings law enforcement and communities closer together. The "in the classroom" program is taught by 3000 trained instructors in 41 states. L.E.A.D. has a proven effective, law enforcement-focused anti–drug, anti–violence curriculum for K-12 students in the U.S. The L.E.A.D. curriculum is taught over the course of a 10-week program to educate youth on how they can make smart decisions without the involvement of drugs or violence.

The entire Paramus public school system engages in collecting toys for the event. This year, officers at the Paramus Police Department will bring the gifts to a collection site at the Closter Fire Department. They'll gather with almost every department in Bergen County to arrange for charitable organizations to pick up the toys.

"In addition to working with various departments to ensure that the toys will be delivered to those in need throughout the holidays, we'll also be visiting a few families in Paramus on Christmas Eve to give them presents directly," said Detective Lieutenant Teehan. "Contributing toward an additional amount of happiness that they'll experience during the holiday season is an indescribable feeling. Simply thinking about a child's reaction to receiving a gift is enough to feel fulfilled, and the fact that the students want to be a part of the event makes it so much more special."

Merely sharing where the donated toys will be brought to with the students, Detective Lieutenant Teehan says, brings a huge smile to their faces.

"When we give them a vision of how the toys they donated will be presented to less fortunate families, it truly makes their days," he said. "Being a part of this experience allows the students to feel empathy for kids their age in need and understand that everyone is capable of bettering someone's life. They're able to make decisions that impact themselves and others in a positive way, which is what L.E.A.D. is all about."

Detective Lieutenant Teehan agrees with DeMauro that the toy drive does an excellent job of strengthening the relationship between the police and communities.

"It's rewarding for the students' parents to see their kids be role models as they participate in the event," he said. "Seeing how we're helping their children impact other kids' lives lets them perceive the police in a positive light, which creates unity among the Paramus community."

About L.E.A.D.

L.E.A.D. provides the leadership, resources and management to ensure law enforcement agencies have the means to partner with educators, community leaders, and families. L.E.A.D. succeeds by providing proven and effective programs to deter youth and adults from drug use, drug related crimes, bullying and violence. L.E.A.D. is committed to reinforcing the mutual respect, goodwill and relations between law enforcement and their communities. For more information, visit https://www.leadrugs.org/.